Description
Developing a Mental Health Strategy for the Irish Workplace
CIPD Southern Region Committee are delighted to welcome members to join us for a breakfast event, sponsored by Collins McNicholas Recruitment & HR Services Group. Our Speaker will be Anna Kennedy, Operations Lead, Global Health Services, J & J. The event will take place @ 7:30am on Wednesday, 2nd October, 2019.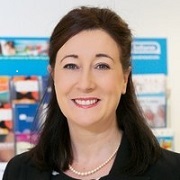 Anna Kennedy,
Operations Lead, Global Health Services, Johnson & Johnson
A recent Mental Health Foundation survey found that one third of respondents feel unhappy or very unhappy about the time they devote to work. More than 40% of employees are neglecting other aspects of their life because of work, which may increase their vulnerability to mental health problems. Left unaddressed, this situation can have drastic effects on employee engagement and general morale.

Our Speaker Anna Kennedy has been to the forefront in developing a Mental Health strategy at Johnson & Johnson so come along and find out what methods she used and how those strategies have helped to create a more engaged workforce.
Speaker Profile:
Anna Kennedy,
Operations Lead, Johnson & Johnson Global Health Services
Anna is responsible for the development and execution of Occupational Health and Wellbeing strategies and standards across all J&J sites in Ireland.

Prior to J&J, Anna was the Health and Wellness Manager for Laya Healthcare, enabling their clients to build engaged and economically productive organisations. She served on the Hospital Executive Team of the Mater Private, Cork where, as Patient Services Manager, she was responsible for designing and leading service excellence across all departments. Along with 14 years in the medical device, pharmaceutical and diagnostic commercial industries, she has also led academic, medico- legal, and organisational development consultancy projects with University College Cork. Having worked across the breadth of the health sector; manufacturing, commercial, clinical services and employee wellbeing, Anna brings unique insights into organisational needs of the employer, employees and the reach into the wider community. Anna has a BSc in Biochemistry, MSc in Food Science and Technology and MA in Organisational Learning and Development from University College Cork.
Sponsor Profile:
Collins McNicholas is an award-winning, Irish-based, recruitment and HR services company with almost 30 years' experience in providing innovative talent solutions for its extensive client base in Ireland and across Europe. Collins McNicholas has six offices nationwide, located in Dublin, Cork, Galway, Limerick, Sligo and Athlone. Specialist sectors include Technical & Engineering, Science & Pharmaceutical, Medical Devices, Supply Chain & Logistics, Accounting & Finance, Shared Services, HR & Training and Information Technology.
In recent years, Collins McNicholas has been instrumental in assisting many multinational companies establish facilities in Ireland. Collins McNicholas established its Cork office in 1995. Managed by Rory Walsh, Collins McNicholas has been able to support the recruitment efforts of many of Cork's largest companies. Located in the Ballycurreen Industrial Estate on the Airport Road Collins McNicholas is at the centre of Cork city's recruitment industry
---
Closing date: Tuesday, 1st October @ 12 noon or as soon as all place are allocated.
NB. The Sponsor has to pay for your breakfast whether you attend or not, as a courtesy, please advise us asap if you find, after booking that you cannot attend.

We look forward to meeting you there.

Parking: Ample parking available at the venue free of charge.
Cancellation Policy – 24 hours

Please Note
Professional photography and video production may be taking place at the event and these images may be used on future promotional materials for CIPD. Please note that by attending the event, you are giving your consent for your image to be used on any CIPD promotional materials.
For your security and peace of mind, CIPD and its subsidiaries will not supply your details to any organisation for marketing purposes. By submitting this request you confirm that you agree to the use of your information as set out in CIPD's privacy policy. We reserve the right to include your name in a list of delegates at the event.
Non-members may click here to sign up to receive our e-newsletters which will keep you up-to-date with HR news in Ireland as well as CIPD Ireland events and survey research.