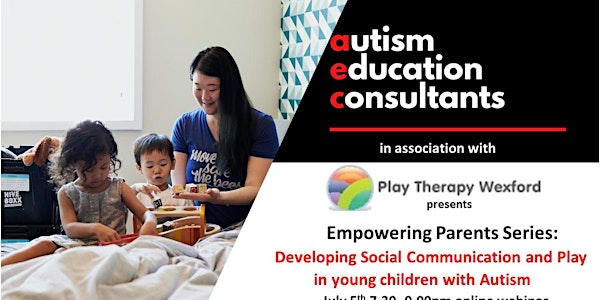 Developing Social Communication & Play in Young Ch
Refund policy
Refunds up to 1 day before event
Our Empowering Parents series is designed to offer education and support to parents of autistic children and adolesence.
About this event
This seminar offers ideas and strategies for using naturally occurring opportunities to support and develop emerging communication skills through play and engagement.
We will explore
Stages of development in play and language
The links between play and language
Strategies for assessing and identifying where your child is at
Activities and strategies to develop emerging skills.There will opportunities for Q& A throughout.
Your Speaker
Marie Byrne has over 30 years experience as a wife, mother, teacher and therapist to people with autism/autistic people. In this live event she brings the insights of her lived experience to parents of young people who are new to the world of Autism.
Marie believes in respecting and working with the Autism perspective and in empowering parents and professionals to consider the perspectives and rights of the Autistic person at all times.
While she is the person speaking, she brings insights from the many autistic people she has loved and worked with over the years and acknowledges the roles of her husband and son, in particular, in educating her in the Autism Perspective.