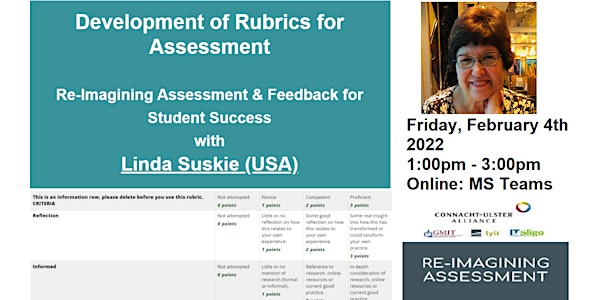 Development of Rubrics for Assessment with Linda Suskie
As part of the CUA Project, Re-imagining Assessment for Student Success we will be running the fourth workshop on the Development of Rubrics
Date and time
Fri, 4 Feb 2022 05:00 - 07:00 PST
About this event
Title: Development of Rubrics for Assessment
Linda Suskie is an internationally recognised consultant, writer, speaker, and educator on a broad variety of higher education assessment and accreditation topics.  Her books include Assessing Student Learning: A Common Sense Guide, one of the best-selling books on assessment in higher education, and Five Dimensions of Quality: A Common Sense Guide to Accreditation and Accountability. 
Linda worked seven years as a vice president at the Middle States Commission on Higher Education. Her higher education experience includes work in assessment, institutional research, strategic planning, and quality management.  
Linda has taught undergraduate and graduate courses in assessment, educational research methods, writing, statistics, and developmental mathematics.  She holds a bachelor's degree in quantitative studies from Johns Hopkins University and a master's in educational measurement and statistics from the University of Iowa.
Linda's idea for this Bespoke Workshop:
"A few years ago, I conducted a literature review on rubric development for a book chapter I'd been asked to write. I learned so much that I've since done some conference presentations titled "Everything I Thought I Knew About Rubrics Was Wrong!" Well, that's not quite true, but lightbulbs came on for me regarding what rubrics are, what makes a rubric valid, how to craft an effective rubric, and how to create a great assignment to be assessed by the rubric. Join me and see how many lightbulbs come on for you!" 
More about Linda Suskie
Linda Suskie - A Common Sense Appr​oach to Assessment in Higher Education