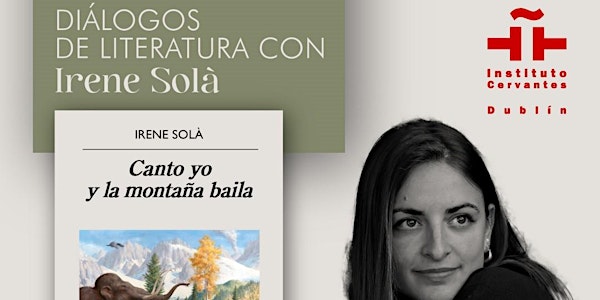 Diálogos de literatura con Irene Solá: "Yo canto y la montaña baila"
The Instituto Cervantes Library presents a series of literary conversations in Spanish . Spanish author Irene Solá will be our first guest.
By Instituto Cervantes Dublin
Date and time
Mon, 24 Apr 2023 18:30 - 19:30 IST
Location
Instituto Cervantes Dublin Lincoln House, Lincoln Place D2 D02 VH29 Dublin Ireland
About this event
Join us to welcome Spanish author Irene Solá in conversation with Jesús Urda, professor of Spanish and film studies at the TU Dublin.
We will dive into her novel "I sing and the mountain dances" ("Yo canto y la montaña baila").
"First comes the storm and the lightning and the death of Domènec, the peasant poet. Then, Dolceta, who can't stop laughing as she tells the stories of the four women who were hanged for witches. Sió, who has to raise herself to Mia and Hilari up there in Matavaques. And the trumpets of the dead, who, with their black and appetizing hat, announce the immutability of the cycle of life".
Primero llegan la tormenta y el rayo y la muerte de Domènec, el campesino poeta. Luego, Dolceta, que no puede parar de reír mientras cuenta las historias de las cuatro mujeres a las que colgaron por brujas. Sió, que tiene que criar sola a Mia e Hilari ahí arriba en Matavaques. Y las trompetas de los muertos, que, con su sombrero negro y apetitoso, anuncian la inmutabilidad del ciclo de la vida".
About the organiser
Instituto Cervantes, the official Spanish Government Centre, is a public institution founded in 1991 to promote Spanish language teaching and knowledge of the cultures of Spanish speaking countries throughout the world.