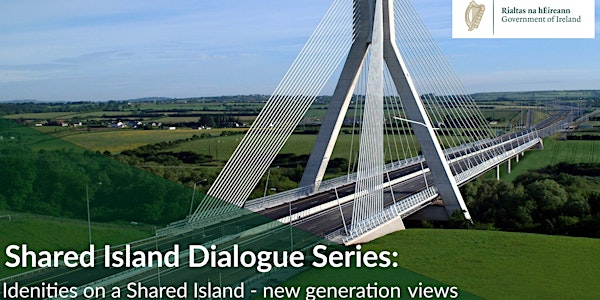 Dialogue: Identities on a Shared Island - New Generation Perspectives
You are invited to attend or to nominate a young person to participate in a Shared Island Dialogue on Identities on a Shared Island
When and where
Location
St Columb's Hall 10a Orchard Street Derry BT48 6EB United Kingdom
About this event
A Shared Island Dialogue with young people (ages 16-35) will be held at St.Columb's Hall, Derry, on Tuesday 28 June from 10:30am - 2.15pm.
You are invited to attend or to nominate a young person from your organisation to participate.
This event is part of the Irish Government's Shared Island initiative, to engage with all communities and traditions on key issues for a shared future on the island, underpinned by the Good Friday Agreement.
This 11th Shared Island Dialogue event is on "Identities on a Shared Island - New Generation Perspectives".
This half-day event will hear from young people from across Northern Ireland and Ireland on their views, experiences and hopes for the future around our identities on the island.
It will include two participative panel discussions on 'Cultural identities on a shared island - can we move from acceptance to celebration?' and 'Personal identities - better representing diverse identities on the island of Ireland.'
There will be guest speakers and an opportunity for networking with other young civic and community leaders from across the island.
This event is organised in cooperation with St. Columb's Hall Trust and Cooperation Ireland.
Advance registration is essential and you can register to attend either in-person or online.
Further details on the Dialogue including a full event programme will be circulated closer to the event.