Suffer with IBS or fed up looking for the nearest toilet...want to know if food intolerances are a thing...can herbs heal the gut...and more
About this event
Lara Jonasdottir, Medical Herbalist & Tara Canning Functional Nutritionist discuss how the DIGESTION PROGRAM helps with
#IBS #IBD #Constipation
#Diarrhoea #cramps
#bloating #toiletissues
#acidreflux #heartburn
#digestivediscomfort
Lara will talk about the herbal medicine side and Tara will be talking practical food & nutrition tips with a nice recipe for a homemade muesli that will keep you regular!
Why suffer in silence?
Lots of great tips and advice for optimal digestive health.
Digestion...Digestion...Digestion...the gatekeeper to most health conditions.
Learn why we use #foodintolerancetesting #vitamind and other markers in this program to support your specific needs.
You can put your questions to Tara & Lara at the end or send in your questions to tara@drclare.net
Sign up to our eventbrite page for more event news too!
Go to www.drclare.ie and subscribe to our newsletter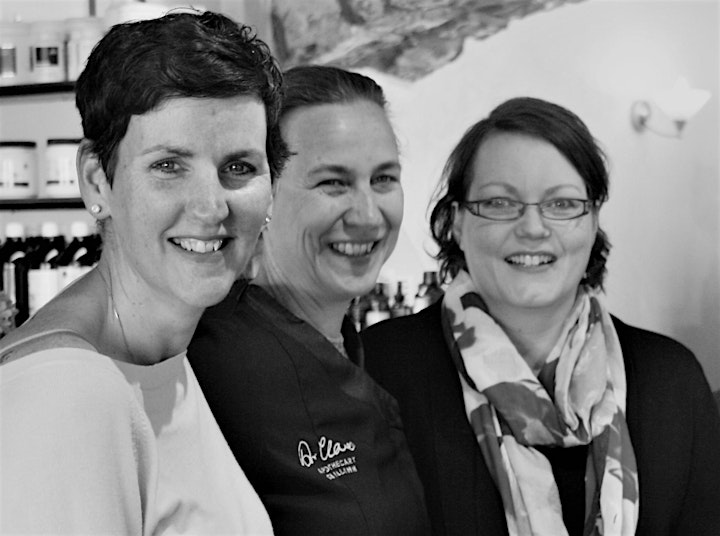 Left to right- Tara Canning Functional Nutritionist
Iris Merz team member Dr Clare Clinic
Lara Jonasdottir Medical Herbalist
Organiser of Digestion Program Nutrition & Herbal Medicine Masterclass
Dr Clare GP & Medical Herbalist started this integrated clinic and Herbal medicine shop in 1996 when she moved from her busy GP practice in London. Upon completion of her degree in herbal medicine she decided to commit to using the herbs as her primary source of healing her patients.
Since then it has grown to include 100's of Irish and international herb and spice varieties.
Some are medicinal and others can be medicinal and used for cooking.
Although the clinic is the cornerstone of her practice with other medical herbalists, nutritionists and other modalities working togethor to use an interconnected approach to health and wellness now her over the counter blends are selling far and wide for all sorts of conditions.
She was invited to become a clinical fellow of NUIG and teaches the medical students every Autumn about the basics of herbal medicine.
She is currently writing her first book, due out in 2020.
Part of her mission is to empower and teach the public about the herbs through talks, workshops, webinars and herb walks.