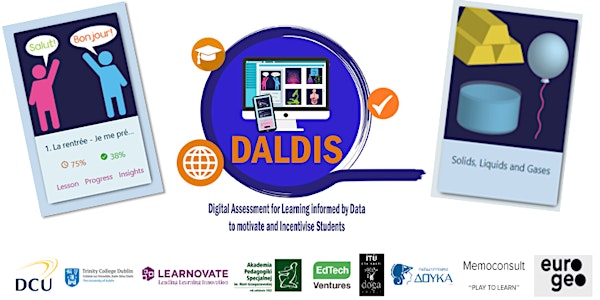 Digital Assessment for Learning
Key Findings from an Erasmus+ Digital Assessment for Learning project [DALDIS]: What the teachers, the students and the data told us.
When and where
Location
Seamus Heaney Lecture Theatre located in the Creggan Library on the DCU St. Patrick's Campus Drumcondra Road Upper Dublin 9 Ireland
About this event
Within the context of C21st Learning Formative Assessment often known as Assessment for Learning (AFL) has become increasingly important. A major goal of AFL is to improve the learning process through the provision of quality feedback to enhance student learning. As classrooms are becoming increasingly technology rich environments technology has the potential to enhance teaching and learning practices including assessment. Yet despite the potential of digital Assessment for Learning (dAFL) to enhance teaching and learning its deployment in European schools to date has been quite limited.
It is against this backdrop that the DALDIS project (Digital Assessment for Learning informed by Data to motivate and incentivise students) emerged. Funded by the EU Erasmus+ Programme (2019-2022) the main aim of this project was to develop and pilot test a technology based solution for AFL to support student learning in European schools. Eight partners from 5 different countries participated in the project.
In this event we will provide an introduction to the project and the technology as well as what was achieved in the wider context of digital Assessment for learning based on the project's deployment in schools. In particular we will focus on the Irish experience where the key target group was students studying Science, French and Geography for the Junior Cycle. The findings are based on surveys conducted with teachers and students as well as data analytics provided by the software.
The event will be of interest to teachers, researchers, policy makers and student teachers as well as anyone who has an interest in assessment and the potential of technology to enhance the field.
The organisers are Dr Miriam Judge and Denis McSweeney, Dublin City University.
Please join us for this event with our guests, KEYNOTE SPEAKER, Dr Daithí Ó Murchú, Expert Advisor on Emerging Technologies in Education and former School Principal and Ms Brenda Walsh, one of Ireland's E-Twinning Ambassadors.
Registration/Tea/coffee/pastries will be available from 9.30
Agenda begins 10:00 am sharp:
Keynote: Digital Assessment suppporting 21st Century Learning: Dr Daithí Ó Murchú Expert Advisor on Emerging Technologies in Education and former School Principal
Introduction to the DALDIS project and assessment for learning
Creating good curriculum related content and challenging the learner
Hands on demonstration of the DALDIS Ireland platform
Presentation: What the teachers, the students and the data told us
Close out: Ms Brenda Walsh: The e-Twinning Platform and how it supports teacher collaboration projects across Europe
For further information about the project: go to https://www.daldis.eu/