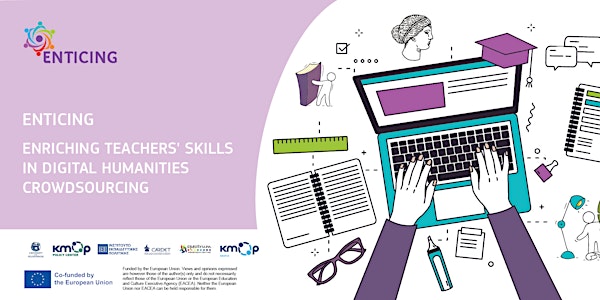 Digital Humanities with Crowdsourcing: Empowering Secondary School Teachers
The project aims at seamlessly blending the benefits of Crowdsourcing with the need to upgrade the levels of digital readiness of secondary
By Spectrum Research Centre
Date and time
Wed, 31 May 2023 03:00 - 05:00 PDT
About this event
https://www.enticing-project.eu/
Key Highlights of the training:
Understanding Digital Humanities: Gain a comprehensive understanding of Digital Humanities and its application in the teaching of humanities subjects. Explore how to leverage digital tools, resources, and collaborative approaches to enhance student engagement and learning outcomes.
Crowdsourcing in Education: Discover the power of Crowdsourcing and its potential to enrich teaching practices. Learn how to harness collective intelligence, gather diverse perspectives, and involve students in collaborative projects that foster critical thinking and creativity.
Enhancing Digital Readiness: Upgrade your digital readiness and embrace technology effectively in the classroom. Explore practical strategies, tools, and resources that can enhance your teaching methods and adapt quickly to changing circumstances, such as during times of crisis.
Hands-On Workshops and Demonstrations: Engage in interactive workshops and demonstrations led by experienced educators and experts in the field. Learn how to incorporate Crowdsourcing platforms, analyze digital data, and develop innovative projects that foster student collaboration and inquiry.
Networking and Collaboration: Connect with fellow secondary school teachers, sharing experiences, ideas, and best practices. Build a supportive network of educators who are passionate about Digital Humanities and Crowdsourcing in education.
Resources and Ongoing Support: Access a wealth of resources, including lesson plans, digital tools, and educational communities, to continue your professional development journey. Stay connected with the Enticing Project community and receive ongoing support to implement Digital Humanities concepts in your teaching practice.
About the organiser
The Spectrum Research Centre offers a diverse range of expertise and research findings that can inform and enhance teaching practices. Teachers of all levels can benefit from SRC by engaging in various opportunities for Continuing Professional Development (CPD). Teachers can access policy briefs published by SRC to stay updated on current research and gain insights into policy changes affecting education. Additionally, SRC's commitment to establishing a Centre for Educational Innovation presents a future avenue for teachers to collaborate and implement research findings into their classrooms. Teachers can explore workshops, seminars, and training programs organized by SRC to further develop their skills and stay at the forefront of educational innovation. Moreover, SRC's connection with ERASMUS exchanges and study visits provide teachers with potential opportunities to participate in international teaching experiences, fostering professional growth and cross-cultural understanding. Overall, teachers have the chance to engage with SRC's resources and initiatives to actively contribute to the improvement of education through their own professional development.