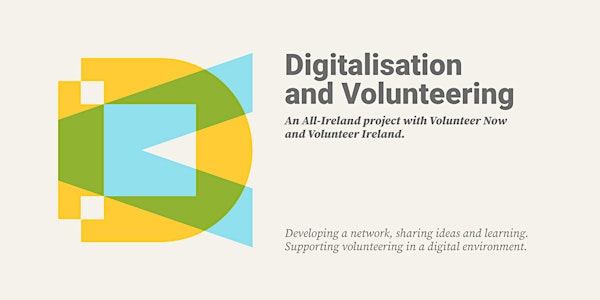 Digitalisation and Volunteering, Workshop 2: Volunteer Management Platforms
An all-Ireland series of workshops to support volunteering in a digital environment
About this event
Introduction
Volunteer Management Platforms and supporting tools
Join us and representatives from some of the leading organisations of digitalisation tools and volunteer management systems as they share their experience and knowledge in this rapidly developing field. Learn the many benefits these tools can bring to your organisation as we continue to embrace the changing world of volunteer management.
Daniel Green - Better Impact
At Better Impact, Daniel works with organisations large and small within the non-profit sector across the UK, Ireland and around Europe. As a Sales Software Advisor, Daniel builds relationships with those exploring any of our four program management software solutions: Volunteer, Donor, Client and Member Impact. He works with your team to match your software needs to the right solutions, conduct personal demos, support you throughout your free software trial, provide bespoke quotes, answer questions and any other requirements your team may have throughout your journey.
Jamie Greer - Be Collective
Jamie has over 15 years' experience working in the charitable sector since graduating from Queens University Belfast. As Community & Stakeholder Development Manager at 'Be Collective' Jamie is working in partnership with local organisations to support and grow their volunteer programmes digitally through Be Collective.
Prior to this he has worked extensively in the areas of learning disability employment services, youth work & mental health for organisations such as Volunteer Now & Mencap. As a trained Investing in Volunteers (IIV) Advisor & Assessor Jamie has in the past been involved with the NW200 Road Race and most recently in supporting Foyle Search & Rescue Service. Currently an active volunteer within his local community, Jamie understands how volunteers play a vital part in all areas of life and is looking forward to bringing his experiences and knowledge to the conference.
Chris Martin - TeamKinetic
Chris has worked in both community and professional sport, starting life as a coach and fitness training in professional football with Sheffield Utd, before qualifying as a teacher and then moving onto community sports development.
During his varied career, the golden thread that has linked his various life choices has been his passion to volunteer and it has led to many of his life's opportunities.
In building the company TeamKinetic, it has been his desire to create a platform for people to find communities, to share a common cause, to work in collaboration and utilise their skills. Also, to provide the opportunity for communities to grow, be it online or in the physical world, enabling them to share resources, passion and success.
TeamKinetic functions on three fundamental concepts; the generosity of individuals, the ability of people to work together when they have a shared goal and satisfaction of being part of something greater than oneself. These are concepts Chris and TeamKinetic continue to hold dear. Their mission is to make volunteering easier for everyone.
Ashley Staines - Volunteero
Ash has volunteered most of his adult life, most recently as a befriender for Age UK. Paper-based processes and manual interventions meant that a lot of the time, there was a lot of effort required to sign up for even the simplest volunteering opportunities. During the first UK national lockdown, Ash and his two co-founders decided to do something about it, a far cry from his previous career in finance. Ash set about interviewing as many volunteer managers who would give him the time, the team built out a spec and Volunteero was born. At its core, Volunteero is designed to revolutionise volunteer management and enable charities to have an even greater impact through volunteering.
Randa Bennett - vHelp
Randa Bennett is the founder of vHelp, when the first Covid-19 lockdown started, we wanted to help so we started to shop for our neighbours. We quickly found that taking payment was an awkward and impractical experience. Firstly, you have the money exchange happening at the door, then the hassle when you don't have the right change to give back. Let alone the risk of contamination, with cash being one of the dirtiest objects to be exchanged. There was also a major risk around safeguarding vulnerable people when dealing with cash and payments.
Download the programme for the full series of workshops (Adobe PDF)