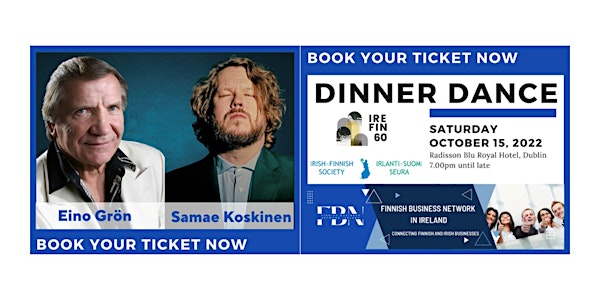 Dinner Dance FinIre60
DinnerDance60 with legendary Eino Grön and Samae Koskinen, a night with good music, dance and food for the FBN and IFS members and guests.
When and where
Location
Radisson Blu Royal Hotel, Dublin Golden Lane D08 VRR7 Dublin 8 Ireland
About this event
Ireland and Finland established diplomatic relations 60 years ago in 1962. Today our nations, people, and businesses enjoy a friendly and open relationship as thriving members of the EU.To mark this occasion the Finnish Business Club and the Irish-Finnish Society are organising a Dinner Dance on 15th October 2022. The night will feature two famous artists from Finland, Eino Grön (www.einogron.fi ) and Samae Koskinen (www.samaekoskinen.com), who will be visiting Ireland and performing specially for us, at this event only. The Ambassador of Finland, H.E. Raili Lahnalampi, has kindly agreed to be the patron of the event.There will be a printed programme as a souvenir of the night and The Finnish Business Club will launch its new identity as The Finnish Business Network Ireland and its new website and LinkedIn page on the evening. We look forward to celebrating this important milestone for our two countries with as many of you as possible, it will be a night to remember.This showcase event will be held at the Radisson Blu Royal Hotel, Golden Lane, Dublin 2 at 7.00pm and full details as well as ticket prices and how to obtain them will follow very shortly, but they will be strictly limited so you are urged to register at the earliest opportunity.
https://fbcireland.wixsite.com/fbci/wwwfbcirelandwixcom
Tervetuloa & Welcome!!