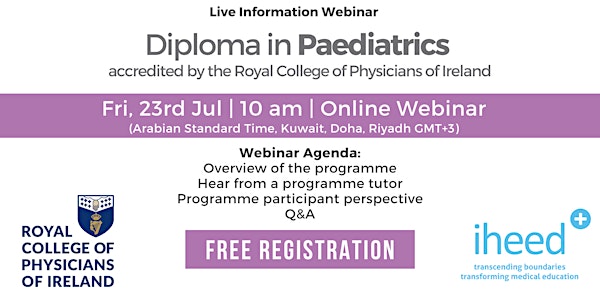 Diploma in Paediatrics - RCPI - Info Webinar - Jul 23 2021
Register for this webinar to hear details of our Diploma in Paediatrics accredited by the Royal College of Physicians of Ireland
About this event
We invite you to join this webinar to hear details of our upcoming enrolment (commencing in August 2021) of our Online Diploma in Paediatrics accredited by the Royal College of Physicians of Ireland.
Webinar Agenda:
Overview of the programme
Hear from a programme tutor
Programme participant perspective
Q&A
Who should join the webinar:
This programme is for graduates holding an MBBS or MD only.
Please note there are no CME credits awarded for attending this webinar, it is an information event about this programme.
Timezones:
UK/Ireland – 8 am
South Africa - 9 am
Qatar/Kuwait/Saudi Arabia – 10 am
United Arab Emirates – 11 am
Pakistan - 12 pm
India - 12.30 pm
Malaysia - 3 pm
Perth - 3 pm
Sydney - 5 pm
About the RCPI, Diploma in Paediatrics:
This Royal College of Physicians of Ireland & iheed six-month Diploma in Paediatrics is a new blended learning programme, designed specifically to cater for busy healthcare professionals. Drawing on the expertise of local and international experts in Paediatrics, the programme provides graduates with advanced knowledge and skills to enhance the health and wellbeing of children.
The objective is to give a solid grounding in the management of common and important paediatric issues, including the management of both acute and chronic conditions and developmental difficulties.
This program is provided in collaboration with iheed, a next-generation medical education organisation. Studying online with iheed gives you access to world-class medical education on any device at any time. Rich engaging, interactive content, discussion forums, journals and online lectures.
Details of how to access the webinar will be provided closer to the time.