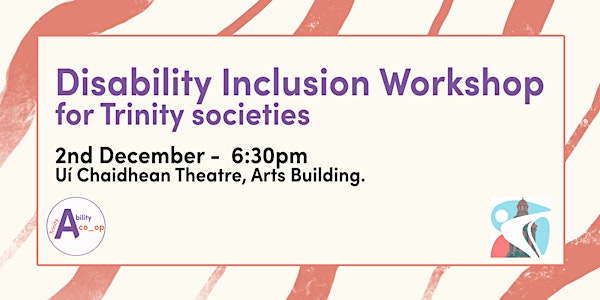 Disability Inclusion Workshop for Societies
In this workshop the Trinity Ability co_op will provide societies with the first steps to becoming inclusive to disabled students.
About this event
This workshop will explore disability inclusion and how this relates to running a society in Trinity. Students with disabilities will lead the workshop and open up a conversation about how we can work together to make Trinity societies more welcoming to disabled students.
The Towards Inclusive Clubs and Societies Project which began in the summer aims to support the development of clubs and societies that are inclusive to disabled students. This workshop, in collaboration with the Central Societies Committee is a great opportunity for societies to demonstrate their commitment to disability inclusion and be eligible for a CSC Society of the Year Award next term.
This event is physically accessible. If you have any accessibility requirements please indicate this on the form or contact the Trinity Ability co_op at abilitycoop@gmail.com.
Organiser of Disability Inclusion Workshop for Societies