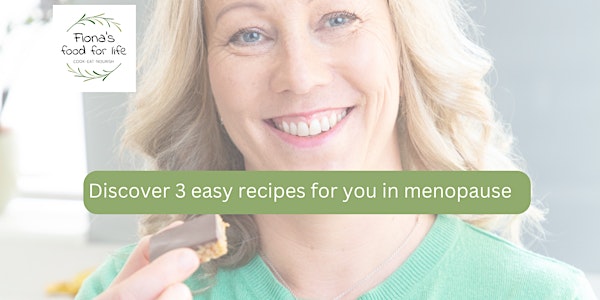 Discover 3 easy recipes to help you in menopause
3 easy recipes with foods containing phytoestrogens as well as a cookery demo
About this event
This FREE live webinar on World Menopause Day Oct 18th at 12pm Irish, 7am EST is Fiona's gift to you as you approach perimenopause and beyond.
You will learn how to make chocolate seed bars in real time, Fiona will share her knowledge, tips and tricks and another 2 popular recipes from her 6-week cooking for menopause programme. You can get the recording to cook-along at a later date in your kitchen.
What people have to say about Fiona's course:
"It was packed with tips, tricks and delicious recipes full of nutrition and flavour." Maeve
"Fiona has a natural teaching skill and her nutritional knowledge is fantastic" Caroline
"Her recipes can be incorporated easily into everyday meals" Ber
With induced menopause due to breast cancer at age 45, I experienced debilitating menopause symptoms inc brain fog, joint pain and fatigue/insomnia. I added foods containing phytoestrogens to my already balanced diet and two years on I am loving life more than ever. Let me inspire you. I am an experienced chef with a degree in education from Trinity College Dubin.
THIS EVENT WILL BE RECORDED AND RECORDING SENT TO THOSE WHO REGISTER!