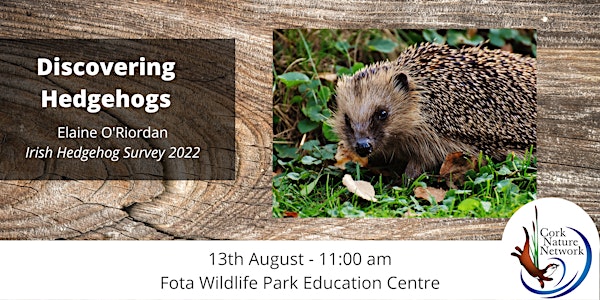 Discovering hedgehogs
A workshop on how to record hedgehogs
When and where
Location
Fota Wildlife Park Fota Wildlife Park Education Centre Fota Wildlife Park T45 CD93 Carrigtwohill Ireland
About this event
Cork Nature Network is delighted to invite you to take part in a workshop on how to record hedgehogs as part of the heritage week at the Fota Wildlife Park Education Centre at 11am on Saturday, 13th August.
You will be given all the information you need to take part and you can make your own hedgehog footprint tunnel to survey for hedgehogs in the garden at home or school. You can also learn some tips for making your garden more hedgehog friendly.
The Irish Hedgehog Survey 2022 is running until the end of September. This is a citizen science project to gather information about Irish hedgehogs. The public are asked to take part in the project by recording hedgehogs wherever you see them or by conducting a hedgehog survey in your garden or local area. There are no special skills required to take part and any interested individuals and groups are welcome to volunteer.
Further information can be found on the website www.Irishhedgehogsurvey.com
The survey is supported and co-funded by the Heritage and Biodiversity Officers in the County Councils of Galway, Mayo, Roscommon, Kilkenny, Dun Laoghaire Rathdown and Dublin City, the National Biodiversity Data Centre, and National Parks and Wildlife Service. Ulster Wildlife are facilitating the survey in Northern Ireland.
About our speaker Elaine O'Riordan:
Elaine is a technician in Zoology, School of Natural Science, NUI Galway. I am conducting research on the ecology of the hedgehog in Ireland as part of my PhD. I have a broad interest in all aspects of nature and a strong background in working with communities on biodiversity projects.
#GiveNatureAChance
We look forward to seeing you!
NOTE:
This event is not in Fota Wildlife Park. It's at the Fota Wildlife Park Education Centre. Someone will be at the main entrance and there will be signs to show the way to go. The entrance is from the car park to the left of the main entrance. The only charge which is beyond our control is 3euros for the car park.
Entry into Fota Wildlife Park is extra should you wish to to around the park.
To support Cork Nature Network:
Become a member: Individual membership is only €10. Concessions €5. Family €20.
COVID-19 INFORMATION FOR IN-PERSON MEETINGS
• All attendees of Cork Nature Network events will be required to follow up to date health guidance.
• Some attendees may wish to wear a mask when gathered outdoors as a group.
Please do not attend any Cork Nature Network event if you:
• are experiencing any symptoms of COVID-19 or are feeling unwell.
• are awaiting the results of a COVID-19 PCR or antigen test.
• are self-isolating or restricting your movements.
• have recently been diagnosed with COVID-19. Please consult HSE guidelines regarding testing positive for COVID-19: https://www2.hse.ie/conditions/covid19/testing/positive-result/
• are a recent close contact of a person who is a confirmed case of COVID-19. Please consult HSE guidelines regarding close contacts: https://www2.hse.ie/conditions/covid19/contact-tracing/close-contact/
• have been advised by a doctor to isolate or cocoon.