Generate Discovery Conversations
About this event
Everyone within a corporate structure is in sales. As Robert Louis Stevenson once said, "Nothing exists unless it is first sold".
Ever wondered what the key attributes are to negotiating?
Well, without a prior understanding of your customers' requirements and their decision-making process the deal will fail.
This webinar will introduce you to the tools and techniques instrumental in discovering your customers' needs.
During this workshop:
you will learn about the three elements that make up value to a customer
receive tips on listening for flags and asking the right questions in sales conversations
you will develop an understanding of communication styles relevant in sales situations
we will demonstrate handling objections techniques applicable during the discovery process
Sign up now, as the places are limited.
For more information on our corporate programmes visit our website.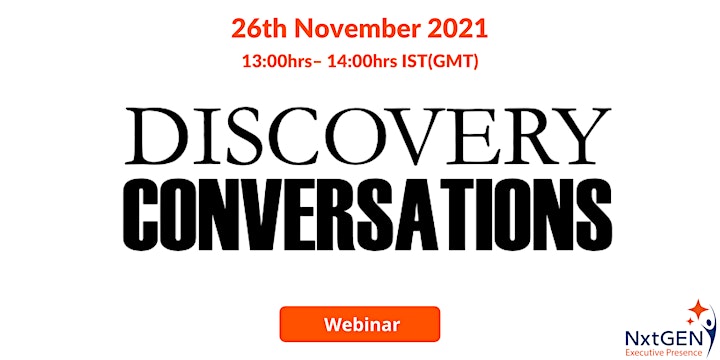 Organiser of Discovery Conversations
NxtGEN helps Executives overcome the fear of speaking in public. Helping Executives open a corporate presentation with confidence, engage the audience, close leaving the audience wanting more. When the Executive stands up to speak in public they stand out.
Clear powerful communication is vital for accomplishing any business objective. NxtGEN courses create transformative experience for executives who are strong in functional areas, want more when communicating ideas, proposals and vision. Executives have opportunity to practice creating delivering well-crafted, concise messages with clearly defined intents that authentically support personal brand.
Executives identify key strengths and areas for improvement. Through role-play interactive presentations, executives identify personal profile and persuade diverse audiences whether in business development, management meetings, boardrooms or stage. Executives leave empowered to enhance personal presence, build trust and create influential effective corporate presentations.
Phone: +353 1 524 0257
Email: hello@nxtgen.ie