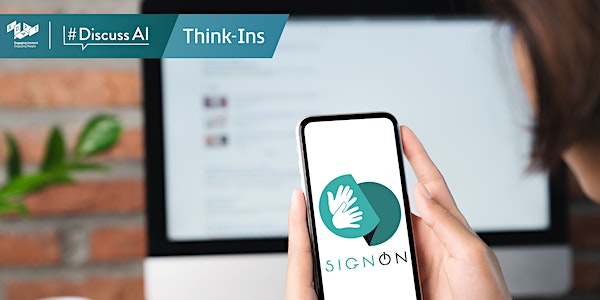 #DiscussAI Think-In: Translating Sign Languages
Join us on Friday 25th November online to explore how an app for Sign Language translation might work in practice
About this event
Can you imagine a time when an app on your phone will be able to automatically translate between sign languages and spoken languages (a bit like Google Translate)? As automatic machine translation technology improves, an app like this might not be too far off in the future.
SignON is a community-driven project that is developing technology that will mean Deaf, hard of hearing and hearing individuals can translate between sign languages and spoken languages using translation technology like Google translate.
But how should this technology be developed, and how can we make sure it is guided by Deaf and hard of hearing communities? This event will build on the outcomes of a co-creation workshop on 12 November.
At the Think-In
At this Think-In, you will share your opinions on this type of technology, and your thoughts on the situations you might see it being used and of benefit.
This event is for Deaf, hard of hearing and hearing people. We welcome participants who use a sign language regularly, a little, or not at all. Irish Sign Language interpreting, International Sign interpreting, and live captioning in English will be in place for the event.
About the SignON Project
SignON is a user-centric and community-driven project which aims to develop a communication service that translates between signed and spoken (in both text and audio) languages and caters for the communication needs between Deaf, hard of hearing and hearing individuals across Europe, targeting the Irish, British, Dutch, Flemish and Spanish sign as well as the English, Irish, Dutch and Spanish spoken languages. SignON is a European funded Horizon 2020 project.
Find out more about SignON here: https://signon-project.eu/ or watch this video:
ADAPT's #DiscussAI Think-Ins are public forums that bring people together to discuss some of the ethical issues we face in the digital age. The #DiscussAI Think-In project has been funded by Science Foundation Ireland.
To familiarise yourself with the ADAPT Citizens' Think-In project, please watch this short introductory video: