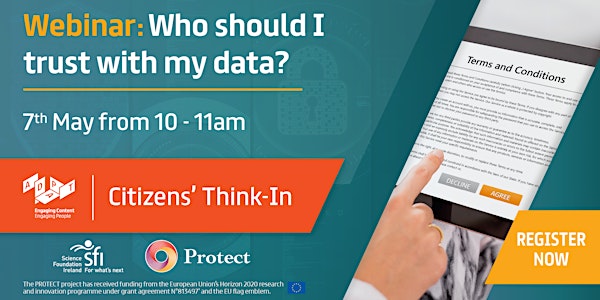 Discussion: 'Who should I trust with my data?'
The SFI ADAPT Centre invites you to join a discussion on trust in regards to the collection and use of your data.
About this event
Join the webinar via the following link from 10.00 on Friday 7 May: https://dcu-ie.zoom.us/j/95214752536?pwd=VGlvc0dTa3RCVFFCdGxDMTFoTTlIZz09
(or type in Webinar ID: 952 1475 2536 & Passcode: 988446)
As our lives become more digital, we are leaving increasingly large data trails online. Companies want us to sign in to collect and process our data, but we rarely have the time, or the information, to understand the full implications of these terms, conditions and privacy notices. Numerous groups including international organisations, governments, researchers and society groups have tried to improve the situation through the creation of new tools, taking inspiration from design practices and principles. However, whether these are improving trust in digital services is still uncertain.
To address this, the EU Commission is proposing legislation to introduce new data governance models to improve trust between those who share their data and those organisations who then control our data. The Data Governance Act proposal would allow for the creation of data cooperatives that can then represent individuals before BigTech companies. So now is a good time to ask:
'Who should I trust with my data?'
Researchers from the PROTECT international European Training Network will join Professor Dave Lewis from the ADAPT Centre, Trinity College Dublin, Ireland for the panel discussion on data ethics and privacy.
About the Speakers:
Beatriz Esteves, Universidad Politécnica de Madrid, Spain
Beatriz Esteves is a Marie Sklowdowska-Curie Fellow in the PROTECT research network. She is a PhD researcher at the Universidad Politécnica de Madrid in the Ontology Engineering Group, working on the intersection of privacy, Semantic Web, GDPR and decentralized datastores.
Andres Chomczyk, Vrije Universiteit Brussel, Belgium
Andrés is a Marie Sklowdowska-Curie Fellow in the PROTECT research network. He is a PhD researcher at the Vrije Universiteit Brussel in the Law, Science, Technology and Society research group.
Haleh Asgarinia, University of Twente / Universiteit Twente, Netherlands
Haleh Asgarinia is a Marie Sklowdowska-Curie Fellow in the PROTECT research network. She is a Ph.D. researcher at University of Twente (Netherlands) in the faculty of behavioral, management and social science, in the department of philosophy.
Register now, we will send the joining details before the event.
This panel discussion is part of a series of ADAPT Citizens' Think-Ins on the ethical issues we face in the digital age. The Citizens Think-In series is funded by the Science Foundation Ireland Discover Call.
The PROTECT project has received funding from the European Union's Horizon 2020 research and innovation programme under grant agreement No. 813497.