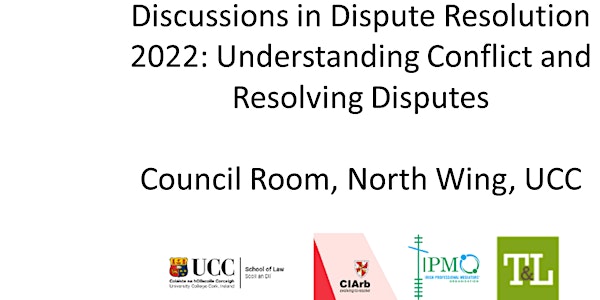 Discussions in Dispute Resolution 2022
Join UCC School of Law on Thursday 13th October 2022 - Council Room, North Wing, UCC
When and where
Location
Council Room, North Wing, UCC UCC College Road Cork Ireland
About this event
'Discussions in Dispute Resolution 2022: Understanding Conflict and Resolving Disputes' - Registration now open!

With Keynote Speaker:
Nicola Wallace, Barrister and Mediator, 4 Paper Buildings
'I hear what you say but what are you telling me? Understanding the language of disputes and using it to maximum advantage in Mediation'
And Guest Speakers:
Penelope Mc Redmond, Solicitor, Lecturer and Legal Writer
'The Mediation Act 2017: Intentional and Unintentional Consequences of Regulating Mediation'
&
Paula Murphy, F.C.I.Arb, FRIAI, Dip Arb Law, Dip International Arb, Dipl Legal Studies
'Domestic Arbitration - Legal Framework and Uses'
Chaired by:
Tom Carey, F.C.I.Arb, Chairperson, Chartered Institute of Arbitrators, Ireland
This is a free event, generously supported by the National Forum for Teaching and Learning in Higher Education, but spaces are limited so registration is essential.
CPD Points Available
For more information, please contact lawevents@ucc.ie
Speakers Bio's
Nicola Wallace is a family barrister and a family and civil & commercial mediator.
Nicola's litigation practice has included mediation since 2015. She has been appointed as mediator in a wide range of family wealth issues, divorce, children, inheritance issues and art law commercial dispute.
Nicola is a fully accredited civil and commercial mediator for ADR Group and the Royal Institute of Chartered Surveyors. She is a panel member for ADR ODR International and the Court of Arbitration for Art (CAfA). Additionally, Nicola is an accredited Faith Mediator (Abrahamic Faiths).
Nicola is a frequent speaker at conferences and runs workshops for universities both in the UK and in Europe, speaking on the role of mediation in family wealth disputes and art and cultural heritage disputes.
Nicola is a course writer and regular trainer for the Bar Council for England and Wales, and for Resolution.
Since 2017, Nicola has been an annual Mediation Judge in Paris at the International Chamber of Commerce University Mediation Competition.
Her full CV can be found at https://www.4pb.com/barrister-profile/nicola-wallace/
Penny McRedmond is a UK and US lawyer and certified mediator. She lectures at Trinity College Dublin on Conflict Dispute Resolution and also works as an independent researcher and writer. She has published on a variety of topics, her most recent publication being Mediation Law, Bloomsbury Professional, 2018. She is currently working on a book titled Justice, Mediation and the Promised Land.
Paula M Murphy FCIArb FRIAI Dipl Arb Law Dip International Arb Dipl Legal Studies is a Fellow of the Chartered Institute of Arbitrators, a practicing Architect and ADR practitioner including Arbitrator (Construction Disputes) for in excess of 20 years. She is a current committee member on CIArb and was Chair of the Subgroup CIArb which produced the revised set of CIArb Arbitration Rules 2022.
Tom Carey F.C.I.Arb is a Chartered Engineer and Fellow of the Chartered Institute of Arbitrators, where he currently holds the office of Chairperson for the Irish Branch. Tom has been on the national committee of CIArb for over 5 years and is an Accredited Commercial Mediator, Adjudicator and Arbitrator. He has acted as Arbitrator in domestic disputes on many occasions and also has a wealth of experience in representing his previous employers and clients across all forms of ADR in the Construction sector, particularly Mediation and Adjudication.
Tom holds several post-graduate qualifications in law and dispute resolution including the Diploma in Arbitration from UCD in 2008, Diploma in Legal Studies from Kings Inns in 2016 and Advanced Diploma in Public Procurement Law also from Kings Inns in 2017.
In his day job, Tom leads Turner & Townsend's Advisory team in Ireland, where he advises public and private sector organisations with particular emphasis on developing strategies to avoid disputes in construction, providing contractual advice throughout the project life-cycle and achieving the best outcomes for his clients in dispute resolution processes.