About this Event
Gareth Farrelly, Solicitor, Bermans, former professional footballer
Andrew McCormich, Partner, Brandts-Giessen McCormick Lawyers, Christchurch, New Zealand
Pat Barriscale, Barrister, Arbitrator at the Court of Arbitration for Sport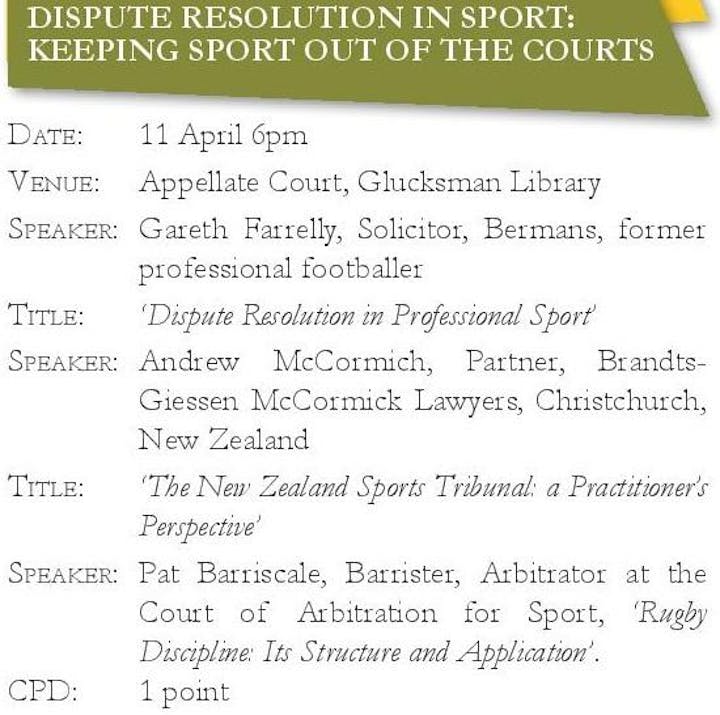 Andrew McCormick
Andrew is a partner in Brandts-Giessen McCormick Lawyers, Christchurch, New Zealand. He advises sporting bodies and represents a number of national and international-level athletes in disciplinary, anti-doping, selection and other sports-related cases before the Sports Tribunal of New Zealand and sports' judiciary panels.
Andrew is also very involved in the sporting community outside of work. He is a community trustee of the North Canterbury Sports and Recreation Trust and is a director of Canterbury Rugby League, where he also served as chairman for 15 months during 2015-2016.
Gareth Farrelly
Gareth is a solicitor with Bermans, Liverpool UK. He has developed significant expertise in sports law, being involved in numerous transfers and disputes concerning current and former players, including a leading Court of Arbitration for Sport case which resulted in changes being made to the rules. In addition, he is a member of the Football Association's Judicial Panel and sits on both the Chairman's Panel and the Football Panel. He is a member of Sports Resolutions' independent Panel of Arbitrators and Mediators.
Prior to qualifying as a solicitor Gareth was a Premier League footballer with Aston Villa, Everton and Bolton Wanderers. He has been capped for Ireland at underage and senior levels.
Pat Barriscale
Having spent 31 years in Holmes O'Malley Sexton working as a solicitor, Pat retired from the practice at the end of 2011 and completed the Solicitors Transfer course in The Kings Inns in mid 2012 and has been in active practice as a barrister since then.
In December 2014, Pat was appointed to The Court of Arbitration for Sport in Lausanne (CAS) in Switzerland. In January 2015, he was appointed to the Arbitration Panel of Just Sport Ireland. Pat is still very actively involved in Rugby Discipline and works as a Judicial Officer with World Rugby (formerly The International Rugby Board ), 6 Nations, European Rugby Champions Cup, Guinness Pro12 and the Irish Rugby Football Union. He is also one of the the members of the Control Appeal Committee of the Irish Greyhound Board since October 2013.