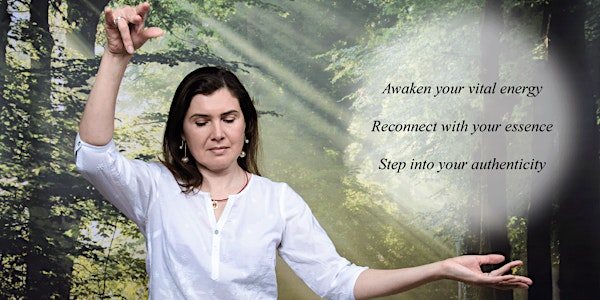 Multiple dates
Dive Deep -1.5 hours Kundalini Energy Activation and transmission
KEA (Kundalini Energy Activation) is a direct transmission of the universal life force energy with many health and spiritual benefits.
Date and time
Wed, 21 Dec 2022 10:30 - Wed, 16 Aug 2023 13:00 PST
Refund Policy
Refunds up to 1 day before event
About this event
This special Winter Solstice session is design to get 90 minutes of energy transmission. First 30 minutes is introduction and greeting which you can skip if you want, but please join the session not later than 18.55 as the Kundalini energy activation starts at 19 pm sharp and I won't be able to admit you once it started.
When Kundalini Energy is activated, it flows in through the crown chakra, down your spine and up again. This experience can be blissful and filled with feelings of love and a sense of the interconnectedness of all things. Kundalini energy holds a wide range of frequencies that lead to an expanded state of consciousness, non-dual awareness and spiritual growth, remove energetic blocks, connect individuals to their source and higher self, profoundly rewire their brain structure and central nervous system. These are just some of the effects that can and do happen, and they will be different for each individual. Every "symptom" or sign of a Kundalini awakening, from the earliest signs to the later end manifestations are seen regularly in participants, and are more profound with continuous exposure.
WHAT HAPPENS DURING SESSION:
You lie down on yoga mat at the comfort of your home. Allow 90 minutes of undisturbed time. You need to assure a god Internet connection as the session will be over Zoom, camera positioned that I can see your body from the top of the head to the toes, good sound from your device as a loud music will be played. Please have light stomach conditions (2 hours after lunch or 30 minutes after snack). While music is played I will concentrate on each individual and transmit energy into your field. I will hold the space for you when your Kundalini energy will be activated and worked in your body. I will touch or point at different chakras or meridian points on your body. Allow whatever arises to be experienced and expressed. Experiences may and does vary from person to person and from session to session. You may feel the energy for the next couple of days.
You will receive Zoom link on your personal email address prior to the session.
WHAT YOU WILL NEED:
- Download the Zoom App and make an account if you don't have one.
- You'll be listening to music on Zoom, Be ready to listen to it with wireless headphone, or connect to a speaker for good sound.
- Yoga mat or comfy rug to lay on for 90 minutes
MAKE SURE DURING THE SESSION YOU ARE LAYING DOWN IN A POSITION WHERE YOUR FULL BODY WILL BE VISIBLE ON THE SCREEN FROM THE SIDE.
ABOUT FACILITATOR:
My name is Atiana, and I am a facilitator of Kundalini energy activation based in Dublin, Ireland. I host in person events in Ireland and UK and online events worldwide.
You can get more information on www.kundalini.ie
DISCLAIMER
By attending the session I certify that I have read and agree to the following disclaimer. Kundalini energy activation may involve physical movements as well as an opportunity for stress reduction and improved mental well being. As is the case with any physical activity, the risk of injury, even serious, disabling or fatal, is always present and cannot be entirely eliminated. If I experience any pain or discomfort, I will listen to my body, discontinue the activity, and ask for support from the instructor. I will continue to breathe smoothly. I assume full responsibility for any and all damages, which may incur through participation. Kundalini energy activation is not a substitute for medical or psychological attention, examination, diagnosis or treatment. It is not recommended and is not safe for those prone to mania, delusion or psychosis. By registering for this class, I affirm that a licensed physician has verified my good health, physical and mental condition to participate in such a program. In addition, I will make the instructor aware of any medical conditions or physical limitations before class. If I am pregnant, become pregnant or I am post-natal or post-surgical, my signature verifies that I have my physician's approval to participate. I also affirm that I alone am responsible to decide whether to practice Kundalini energy activation and participation is at my own risk. I hereby agree to irrevocably release and waive any claims that I have now or may have hereafter against Kundalini Energy Activation and it's facilitator.
Payments are non-refundable. You may transfer your ticket to another date.
Please notify us in advance if you cannot attend by emailing to info@kundalini.ie
More info on https://www.kundalini.ie/