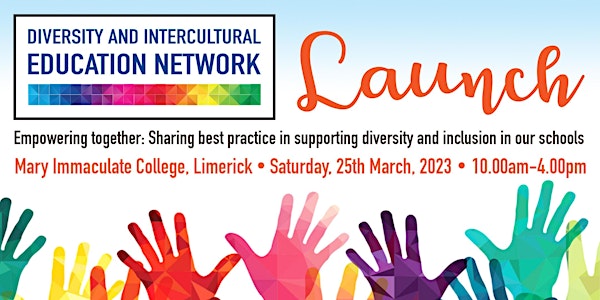 Diversity and Intercultural Education Network Launch
Diversity and Intercultural Education Network Sharing Best Practice in Supporting Diversity and Inclusion in Our Schools
By Narrell Byrne & Santhi Corcoran
Date and time
Sat, 25 Mar 2023 10:00 - 16:00 GMT
Location
Mary Immaculate College Foundation Building, Room G10 South Circular Road V94 VN26 Limerick Ireland
About this event
The aim of this network is to create a space for teachers with an interest in intercultural education and culturally sensitive pedagogy. An opportunity to have access to peer support, learning, and sharing of best practice in a sustainable and ongoing professional development context.
The objective is to create a constructive working and learning network that creates resources, tools and support for teachers, students and principals to be shared with school communities. This would allow teachers to 'create cooperative spaces where teachers can plan together, share ideas and resources, and have opportunities to observe one another working,' and 'connect and build on the expertise available within the school, making connections with existing knowledge,' and building on as well as developing good practice that can benefit all (Messiou and Ainscow, 2015).
We launch this network to create this sustainable space for educators to engage and continue dialogue and discussion on best practice that benefits all, schools, pupils and teachers. We hope to welcome you on the 25th of March to engage with this proposed network and further the opportunities it brings to support each other.
Narrell Byrne and Santhi Corcoran – Launch organisers and facilitators.