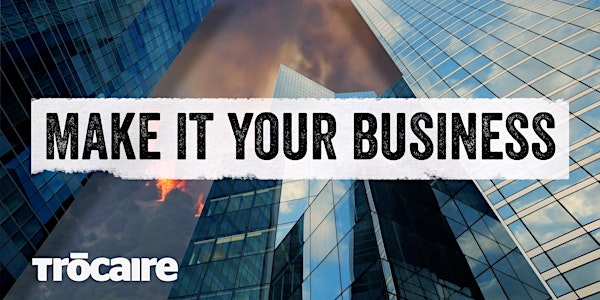 Documentary Screening - 'Make it Your Business'
Join Development Perspectives for a screening of Trócaire's latest documentary 'Make It Your Business'
When and where
Location
Development Perspectives Offices The Mall North Quay A92 PY68 Drogheda Ireland
About this event
Join us for a screening of Trócaire's latest documentary 'Make It Your Business'
The screening will be followed by a Q&A session with the filmmaker Emmet Sheerin.
Doors open at 6.30 pm - screening starts at 7 pm
'We have a problem with global business - sweatshops, child labour, land grabs, oil spills, deforestation, defenders under attack. We have allowed corporations to grow incredibly powerful, while at the same time we have failed to put in place rules to prevent businesses from abusing human rights and devastating the environment. 'Make it Your Business' is a new short documentary from Trócaire which goes on a journey to explore this problem of corporate accountability, meeting experts and human rights activists on the front lines of corporate exploitation and abuse. To tackle these injustices, the documentary also explores how we might realise a better future by bringing in new rules to protect people and planet, and how ordinary people can stand up and take action.'
*Please note that places are strictly limited.
By signing up for this event you are also signing up to be added to our databases keeping you updated with information on our work. You can unsubscribe anytime.