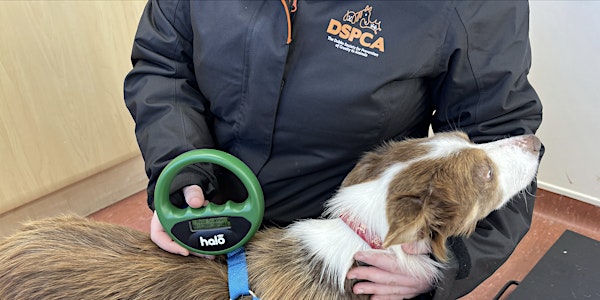 Dog Microchipping at the DSPCA 28th January 2023
Microchip your dog at the DSPCA for a significantly reduced fee of only €10
Date and time
Sat, 28 Jan 2023 11:30 - 15:30 GMT
Location
DSPCA Mount Venus Rd Rathfarnham Dublin 16 Ireland
Refund Policy
Contact the organiser to request a refund.
About this event
This event at the DSPCA in Rathfarnham is to highlight the importance of having your dog microchipped and we are pleased to offer a significantly reduced fee of only €10 to have your dog microchipped and registered.
Microchipping your dog is a legal requirement in Ireland and is the most effective and easy way of reuniting owners with their pet should he/she ever go missing. It is also your proof ownership of your dog. The microchip itself is a tiny chip which is inserted between the dog's shoulder blades. Each chip contains a unique 15-digit code which allows your dog to be easily identified should it be brought to a veterinary clinic or animal shelter. We will register the microchip's unique code with FIDO (a Government approved microchip database) for you with your details and your dog's details. When your dog has been registered you will receive a FIDO microchip certifiate via the post within 2/3 weeks.
Important Information For Owners Attending
1. For the safety and comfort of both staff and clients all dogs must be on a lead.
2. If your dog is required to wear a muzzle they must be fitted before you attend.
3. All pets being microchipped must be accompanied by THEIR owner. The owner must have photo ID and proof of address. This is a requirement by the microchipping legislation.
4. When you book your ticket you can attend anytime between 11.30 and 3.30pm to have your dog microchipped. There are no designated time slots so please do be patient while we see to everyone attending.
About the organiser
Mission Statement
The Dublin Society for Prevention of Cruelty to Animals (DSPCA) has been in operation since 1840. We take care of the sick, injured, and cruelly treated animals in our community. We are the oldest and have grown to be the leading animal welfare charity in Ireland. Our mission is to promote and protect the welfare of all animals. Our strategy acknowledges that animal welfare education and our work within the community for both adults and children will be essential to achieving our vision where every animal is treated with kindness and respect.
About This Cause
The Dublin Society for the Prevention of Cruelty to Animals mission is to prevent cruelty and neglect of animals through fostering the compassionate relationship between animals and people. It is a charitable, non-profit, independent organisation. It operates in Dublin city and county. The mission is to be accomplished through education, advocacy, community programmes and our rescue and rehoming centre.

DSPCA & Community:
Behind everything we do lies the unique bond with people and animals. Our work is centred around helping animals but what stems from that is animals helping people. We see firsthand the benefits of owning a pet has and the social change it can mean for people. How animals can enrich the lives of children, families, the elderly and people who face social and mental health challenges. We work with St. John of God, Merchants Quay Project and many other organisations within the community.

We rehome over 2200 animals each year through our rescue and rehoming centre.