Event Information
Location
Coffee Culture
55
South King Street
Dublin
Ireland
Description
"Don't Call Me Sugar" Is a pop-up event that focuses on changing the misconception about sweet wines and dessert wines.

Throughout the event, I will show you how sweet wines have much more to offer than the simple notion of SUGAR.


Imagine a nice glass of Vin Santo paired with a slice of your favourite Christmas cake, or a glass of Recioto served with a decadent chocolate brownie topped with hot dark cherries.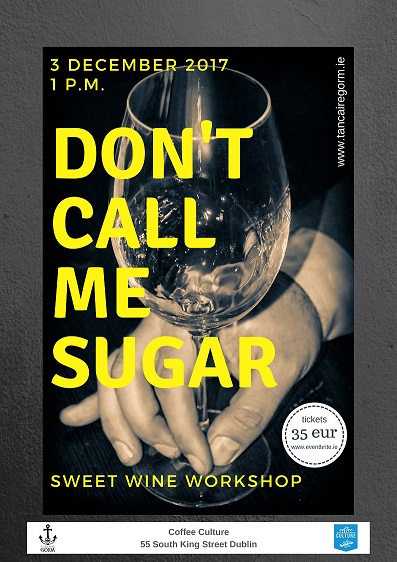 You will have the opportunity to try:
- 5 different styles of sweet wines: Sparkling, Slightly Sweet, Richly Sweet, Sweet Red and Fortified
- 11 bottles from the best "sweet" appellations, including Sauternes, Tokaji, Porto and many more
- Various foods and sweets that showcase the complexity of the wines and demonstrate they are more than just 'sugary' drinks
You will also get to learn about the different production methods for sweet wines (passito, late harvest, noble rot, ice wine, fortified).
So grab your tickets and join me for a sweet wine ride :)
Date and time
Location
Coffee Culture
55
South King Street
Dublin
Ireland
Refund policy