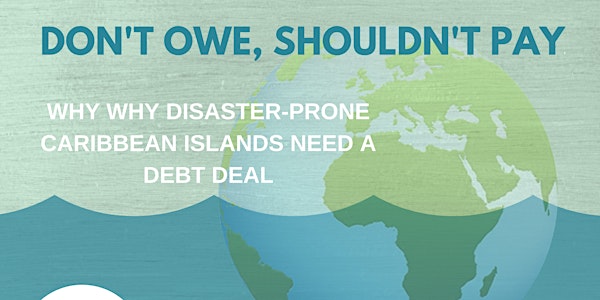 Don't Owe, Shouldn't Pay! Why disaster-prone Caribbean islands need a debt...
Location
Connolly Books
43 Essex Street East
D02 Y306 Dublin 2
Ireland
Description
Join Financial Justice Ireland & Friends of the Earth to discuss how climate chaos is fuelling natural disasters and a debt crisis in poor Caribbean island nations like Grenada.
Heron Belfon, director of debt justice campaign group "Jubilee Caribbean" will speak about how her home country faces near-annual hurricanes because of a climate crisis the tiny Caribbean islands had no hand in making. Adding to the injustice, countries like Grenada are forced to repay unaffordable, overpriced loans, instead of being given the space to use their national revenue to invest in precious resources in recovery and disaster protection. The Caribbean needs a debt deal before the next hurricane season strikes, a deal that would allow the debt that countries like Grenada have to be suspended in the wake of a climate disaster.
This evening workshop will look at what's happening in the Caribbean and how climate change and the global financial system interact. We will also be working together to plan concrete actions we can take in Ireland to push for debt justice for countries like Heron's, before the 2019 hurricane season hits. This comes at an opportune time as the European Parliament and Local Council elections will take place on May 24th 2019.