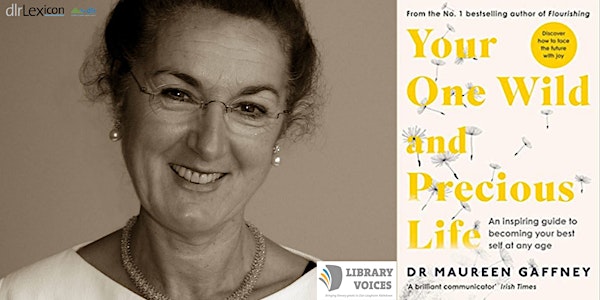 Dr. Maureen Gaffney in conversation with Kathy Sheridan
Join Dr. Maureen Gaffney as she discusses getting to grips with time with journalist Kathy Sheridan.
Refund Policy
Contact the organiser to request a refund.
About this event
In light of current public messaging, dlr Library Voices events will now take place online only. Tickets for online access 5 euros plus booking fee.
Using the latest ground-breaking research, leading psychologist Dr. Maureen Gaffney has written an inspiring and practical guide for getting to grips with time. Taking the key stages of our life - from infancy to old age - she explores what we learn at each stage. Crucially, she explains how, no matter what has happened in the past, and what age you are, you can find a better route forward. Your One Wild and Precious Life is both profound and reassuring and it will empower you to face the future with optimism. It is a book to fundamentally alter your relationship with time and show you that every age can be your best age.
Dr. Maureen Gaffney will be in conversation with award-winning journalist Kathy Sheridan.
Attend the event through livestream. Tickets €5 + booking fee.