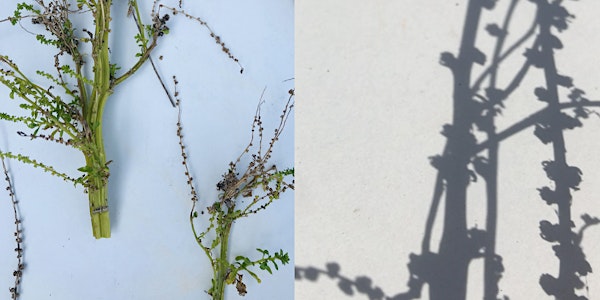 Drawn to Nature for Wild Acres Week
Drawn to Nature
About this event
Drawn to Nature with ecological artist Ashleigh Downey
This experimental workshop is designed to deepen our connection with the natural world, through the art of mindful observation, sensory exploration, and creative mark-making. We will explore the idea of slow looking (learning through observation) and sensory soundscaping. We will also discuss ways to experiment with natural paints and create drawing tools from what we might find in our garden or local park.
Rather than learning to draw or paint natural objects, this exploratory session is all about building a personal connection with nature. No previous art experience is needed for this workshop.
As nature will be our main inspiration Ashleigh suggests where possible that during this workshop you try to position yourself near a window or door to the outside(close to nature).
Also don't forget to have some paper, a pencil and or other mark-making tools to hand.
Materials to bring to the workshop include:
An object you like and have in your home, made out of a natural material(s)
Paper / sketchbook
Pencil or other mark-making tool
***Ashleigh is also presenting The Art of Field Notes workshop, Saturday 5th June. A perfect compliment to this workshop.
Ashleigh is an ecological artist who takes an interdisciplinary and collaborative approach to her practice. Formally trained as a textile designer at Central St. Martins, London (1995-98) she works across disciplines as visual artist, curator, researcher, and facilitator. Ashleigh is on the artist panel at National Gallery of Ireland and the Dublin City Gallery, The Hugh Lane (since 2001). She has also worked with the European Academy of Participation (EAP) to develop a module in participatory practice for universities and cultural organisations across Europe (2017-2018).
Founder of Greenhouse Culture; Climate Ambassador with An Taisce; and Climate Reality Leader, trained by former president Al Gore. Recently completed a post graduate diploma in Design Thinking for Sustainability, UCD. Ashleigh also holds an MA in Social Practice & the Creative Environment (MASpace), LIT , 2018.
Ashleigh is the Environmental Arts Coordinator for Green Sod Ireland. "Nature has always been a source of inspiration and the focus of enquiry throughout my whole practice."
This community focused initiative is kindly supported by Rethink Ireland.