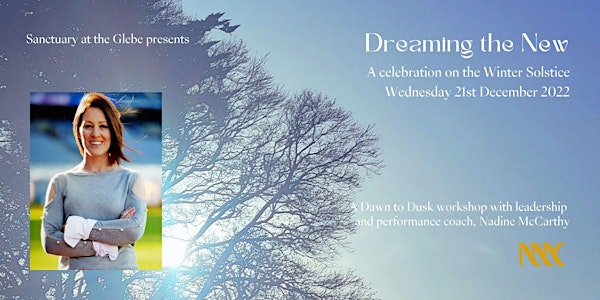 Dreaming the New - A celebration on the Winter Solstice
A Dawn to Dusk workshop with leadership and performance coach, Nadine McCarthy dedicated to letting go and dreaming the new
By The Seraph Foundation CLG
Date and time
Wed, 21 Dec 2022 08:00 - 17:00 GMT
Location
Sanctuary at The Glebe Thomastown R95 D1R8 R95 D1R8 Thomastown Ireland
Refund Policy
Contact the organiser to request a refund.
About this event
In Gaelic, the word for Solstice is "Grianstad," meaning "sun-stop" or "sun standing still" Join Nadine McCarthy, leadership and performance coach, on Winter Solstice for an intimate and special in-person workshop dedicated to pausing, letting go and dreaming the new.
In ancient Ireland, the Winter Solstice marked a significant turning point that honoured the powerful forces of both darkness and light. On the darkest day of the year, the promise of the summer and a brighter future was born in the returning light at dawn. A symbol of hope and a time of great celebration for our ancestors, Solstice marked the beginning of the Celtic Dreamtime, the hope of new and brighter futures.
In this dawn to dusk workshop Nadine will use a combination of contemporary coaching methodologies, self-leadership exercises, reflective practices, nature-based activities and group dialogue to help you envision a bright and hope-filled future. It will provide you with the space and time to stand still and reflect on what you would like to let go of and start to dream the new for yourself, be that in work or life.
"This is a day to dream and be dreamed"
What's included?
• Warm beverages and home-cooked treats on arrival
• 'Standing still' meditation and candle-lit welcome of the light at dawn
• Tailored exercises and nature-based activities
• Group dialogue and sharing
• Organic lunch
• Tree-planting at dusk
• Intimate Workshop and experience limited to 35 people
Details
Wednesday 21st December from dawn til dusk 8:00am to 4:30/5:00pm at Sanctuary at The Glebe
Investment: €165 (including VAT, booking fee and lunch)
About Nadine McCarthy
For over 20 years Nadine McCarthy has supported individuals and organisations with leadership development, performance coaching and systems change. Specialising in human high performance she has worked with C-level executives, senior leaders and leadership teams in national, international and Fortune 500 companies, high performance sports coaches, elite athletes and societal change makers to thrive in every area of their working and personal lives. She is passionate about helping people expand into the most aligned and multi-dimensional expression of who they are. Amongst her many qualifications she is trained in Theory U, a Transformational Leadership and System Change methodology at MIT, Boston. She is also a qualified Yoga Teacher and blends this body-based instruction with clients as needed. Hugely passionate about Ireland and its people, land, language, ancient Celtic culture, traditions and spirituality, she often weaves this rich wisdom with her contemporary expertise.
About Sanctuary
Sanctuary is a place for people from around the world, of all backgrounds and beliefs to come together, promote social tolerance, inspire hope, encourage mindfulness & wellbeing while developing spiritually. Sanctuary is being developed by the Seraph Foundation a not-for-profit organisation, founded by spiritual teacher Lorna Byrne.