Description
Every Friday Evening Life Drawing
Untaught Class
6.45PM Market Studios
Halston Street Dublin 7
15€ or 45€ for four untaught classes
-paper and basic materials included
http://dublindropinlifedrawing.com
Don't want to pay the eventbrite booking fee? - pay at this site: http://www.dublinlifedrawing.com/friday
or just come early and pay in cash

'The Market Studios' is on the corner of Halston St. & Mary's Lane Dublin 7.
-Map here - https://goo.gl/maps/NceCYTn43qzkQTa47
The nearest Luas stop is Four Courts, or you can just walk down from O'Connell Street.
WE START DRAWING AT 6.45PM
Come early if you can - the room is open from about 6.15.

SPECIAL OFFER
We have some special offers if you want to buy a set of classes
http://www.dublinlifedrawing.com/specialdeals

(If you sign up for a new set of four at the expiry of the old card, you get an extra fiver off.)

Frequently Asked Questions:
Q: Can you just show up and pay and cash?
A: Yes. Come early to get a good place.

Q: Can you be a total beginner in drawing?
A: Yes

Q: Can you pay for a single class or a set of classes by card at the studio?
A: Yes

Q: Can you really be a complete beginner?
A: Really

Q: Do you have to come every week if you buy four?
A: No- you can use up the classes over three months.

Q: Do you need materials and paper?
A: We have paper, pencils, chalk and charcoal. We don't have fixative or bags to take your drawings home.
Q: What happens after the class?
A: We usually go to the pub for a coffee or a beer.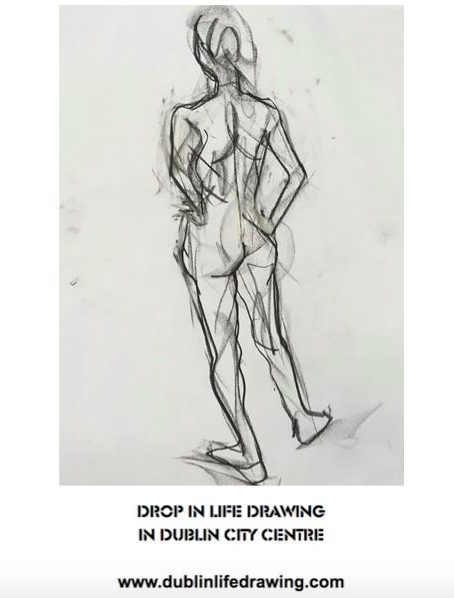 Email dublindrawing@gmail.com for more information, or look at dublinlifedrawing.com

http://dublindropinlifedrawing.com/classes