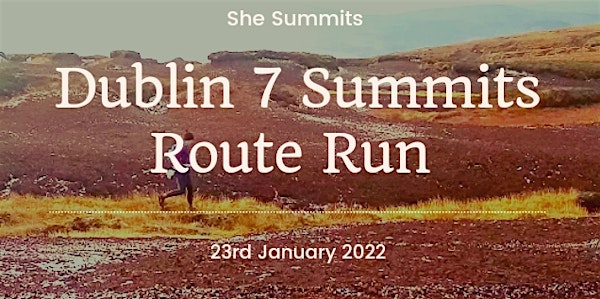 Dublin 7 Summits Route Run
Join us for a recce run on some of the Dublin 7 Summits route!
When and where
Date and time
Sunday, January 23, 2022 · 8am - 1pm GMT
About this event
Are you looking for a running adventure to start off the year? Well then join run leaders Maggie and Sarah for a recce run on some of the Dublin 7 Summits route. 
Maggie is the creator of this Irish Mountain Challenge's event. She was also the first person to run the challenge in November 2021. 
This social and supportive run will start and finish at Cruagh Forest Car Park. 
The morning will be mostly on open mountain trails with some sections of fireroad and forest tracks. 
This is an intermediate level and upwards event and not suitable for beginner level runners. Previous trail running experience required. If you're not sure if this event is for you, then please get in touch. The pace will be steady, but relaxed and social. 
What's included:
- Organised and guided trail-run by She Summits (First-aid qualified run leader).
- Full kit list
Further Info:
Level - Intermediate runners and upwards
Terrain - Moderate to challenging
Time - 8am to 1pm (approximate, depending on overall pace of the group)
Distance / height gain - Dependent on overall pace of the group. 
Required Kit:
- Trail runners
- Coat, hat and gloves 
- Pack with food and water 
She Summits' Policies:
Trail runners, coats, hats and gloves are required on all events.
No exchanges, refunds or transfers onto other events. Please don't request a refund, exchange or transfer of your ticket as you'll be directed back to our policies. 
If we need to postpone an event and you can't make the new date you will not be entitled to a refund, exchange or transfer. 
We reserve the right to cancel any of our events, at anytime, without notice. 
All our events are subject to change and cancellation including: date, time, location and length. 
Over 18s only please. 
About the organizer
She Summits is Ireland's only trail running company that caters specifically to women and to people who identify as women. Guided Runs and events take place in the Dublin and Wicklow Mountains, and sometimes further afield. #womenreachinghigher