Take part in a family-friendly and creative workshop to explore the heritage of your neighbourhood
About this event
We want to hear from you!
What places and spaces do you cherish?
How do you celebrate your cultural heritage?
What are the overlooked stories and histories of your locality?
The workshop is organised to inform the new Dublin City Strategic Heritage Plan.
We look forward to welcoming you!
Practical Information
This is an outdoor, socially-distanced heritage engagement workshop, with limited capacity.
The workshop is open to people of all ages provided children are accompanied by an adult at all times. There will be three workshops, each lasting approximately 45 minutes.
The workshops take place out of doors under the pergola in the new park in front of the Burgh House (formerly known as Saint Luke's Church).
Ticket holders should take weather conditions into account and wear appropriate outdoor clothing.
If you have specific access requirements and would like to attend this workshop, please get in touch before the event.
Please note that photographs and footage will be taken during the event, please advise if you do not wish to be included in any photography.
Please bring protective face coverings.
If you have booked a place on the workshop but cannot attend please let us know by email in advance so your place can be made available to someone else.
Email: heritage@dublincity.ie
We will be responsive to Government's public health guidelines for outdoor events. Therefore the workshop is subject to postponement at short notice.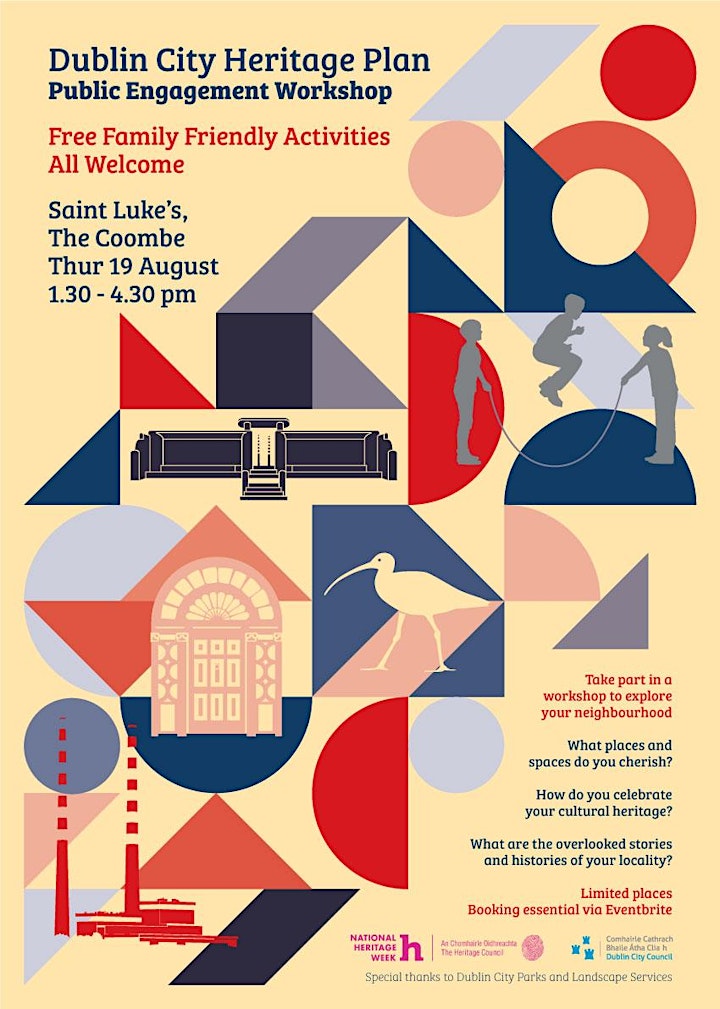 Organiser of Dublin City Heritage Plan, Public Engagement Workshop (St Luke's Church D8)
Organised by Irish Research Council post-doctoral fellow Dr Ellen Rowley, this conference is an initiative of the Dublin City Heritage Plan (Dublin City Council) and the School of Architecture UCD with grant-in-aid support from the Heritage Council County Heritage Plan Grant Scheme and the UCD Decade of Centenaries.
For further information please contact us:
www.conflictandthecity.ie