Description
Inspirational | Local | Topical
Dublin's only Volunteer Management Seminar, curated for your needs by the Dublin Volunteer Centres.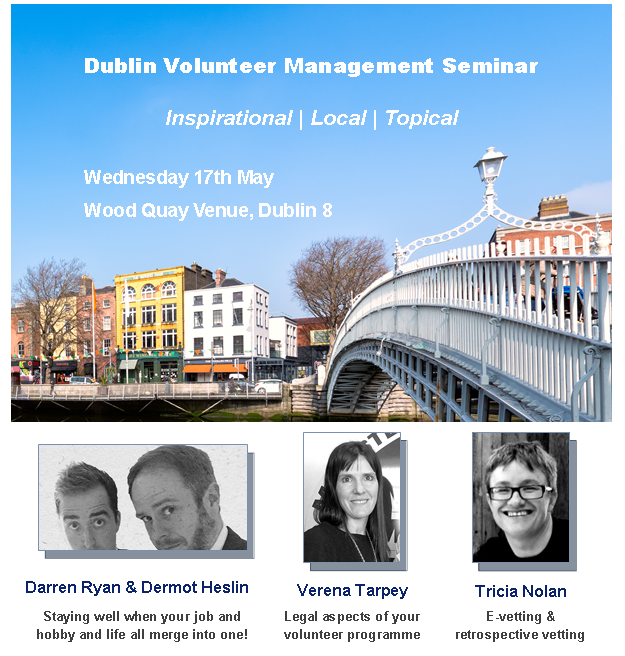 Retaining short-term volunteers | How does your target audience search for volunteering? | Technology to help with your busy day | Facilitated networking


Speakers
Darren and Dermot from 'Darren and Dermot Get Better at Life'
Darren Ryan is the CEO of Social Entrepreneurs Ireland;
Dermot Heslin is a former manager of the Overseas Volunteer Programme at Suas Educational Development and trainee psychotherapist.

They both have backgrounds in the not-for-profit sector, and they have a sense of how difficult it can be to achieve balance in this world. In order to "get better at life", they started a podcast together.
Verena Tarpey - Solicitor
Verena Tarpey is a qualified Solicitor and has a Diploma in HR Management. She is a regular guest speaker at national conferences for Volunteer Ireland and The Wheel on legal issues relating to volunteers in the community.

She is employed as Fundraising and Development Manager with Rape Crisis Midwest
Tricia Nolan - Garda vetting expert

Tricia Nolan is the Manager of South Dublin Volunteer Centre. She is a member of the Garda E-Vetting pilot group and played an instrumental role in setting up the national volunteer infrastructure.
Now in its sixth year, the Dublin Volunteer Management Seminar brings together practitioners from the field of volunteering to provide you with knowledge, insights and discussion on volunteer leadership.The Seminar is practical in its approach and relevant to you as Dublin Volunteer Managers.
Join us for this year's DVMS as part of National Volunteering Week 2017. Price includes lunch and refreshments. Book now!