Description
Second year in Dublin after grand success of Durga Puja 2017, Ireland, IDC presents five days Durga Puja 2018. Ritual will start from Maha Sashti 15th October at 6 pm till Maha Dashami 19th October 2018.
In IDC our main motto is to perform Durga Puja with utmost devotion. We will follow the rituals as strictly as we can. Pronouncing mantras properly is a part of our core theme. Keeping all these in mind IDC happily introduce our priest, Mr Asim Banerjee.
Mr Asim Banerjee will perform the Puja as the main priest. He resides in London. He has been performing Durga puja in England since 2003. In 2012 he did Puja at Camden on their 50th year. Last year he performed Puja at Madrid in Spain.
Please join us with your family and friends to celebrate Durgapuja 2018 at Commercial Rowing club (near Phoenix Park). We have something for all ages, let's share the joy enrich our souls and enjoy the festivities in the family environment. Every evening we have some kind of cultural program for kids and family (like, sit and draw, dance program (classical and Bollywood), music, instrumental, sat-sang).
Please register If you/your kids want to perform. Contact: irelanddurgotsab@gmail.com
**Cultural Event as on 19th Oct 2018 Friday 5:30pm to 8pm (Dance, Drama and Signing)
We need volunteers for puja preparation, event management, prasadam distribution etc.
Alternatively Tickets can be booked:
(If you want to avoid Event Brite charges, please collect the ticket form our local agents bellow. Or, you can send email to irelanddurgotsab@gmail.com with Subject - Durga Puja 2018 Tickets, and our agents will contact you.)
Our Agent will email or Whatsapp you the ticket after realization the payment

1. Dun Laoghaire, Booterstown, Monkstown blackrock, Stillorgan - Promit +353 (89) 419 0715, meetpromit@gmail.com
2. Dublin City Centre, BallsBridge,RDS, Sandymount, Rathmines, Irish Town, Grand Canal, IFSC, Conolly, Spencer Dock- Bijay +353 (87) 100 7100, bj.acharya@gmail.com
3. Dublin city centre, Tallaght, Saggart, Inchicore, Lucan - Tanmoy +353 (89) 453 0172 , tanmoysil@gmail.com
4. Lucan, Eurasia - Abhijit Poddar, +353 (87) 253 8857, jitpodder@gmail.com
5. Dublin North West, West - Debaprasad, +353 (87) 207 6293, debaprasadh@gmail.com
6. Midlands, Kildare area - Amit +353 (87) 905 3194, amithajra@yahoo.com
7. Malahide, Clongriffin, Portmarnock Area - Sumit +353 (89) 978 9975
8. Citywest/Suggart - Prasenjit - +353 (89) 237 0779
9. Dublin City Centre, Nort Circular Road, Phibsboro - Saswata +353 (89) 440 4368 saswata_chatterjee700@yahoo.com
Four days (16th - 19th Oct 2018) combo ticket - 50€. Including Bijoya Dashami Lunch as on 20th Oct 2018

Daily Ticket (Saptami-16th Oct 2018 - Including Two times Bhog/Prasadam) - 15€
Daily Ticket (Ashtami-17th Oct 2018 - Including Two times Bhog/Prasadam) - 15€
Daily Ticket (Navami-18th Oct 2018 - Including Two times Bhog/Prasadam) - 15€
Daily Ticket (Dashami-19th Oct 2018 - Including Two times Bhog/Prasadam) - 15€
Bijoya Dashami and Pratima Baran - Bengali Thali Lunch - 20€
**Kids below 10 Years Free. Above 10 years full price.
Let's rejoice, Devi Durga arrival on Horse and depart on Nara; we will have harvest resulting prosperity for all.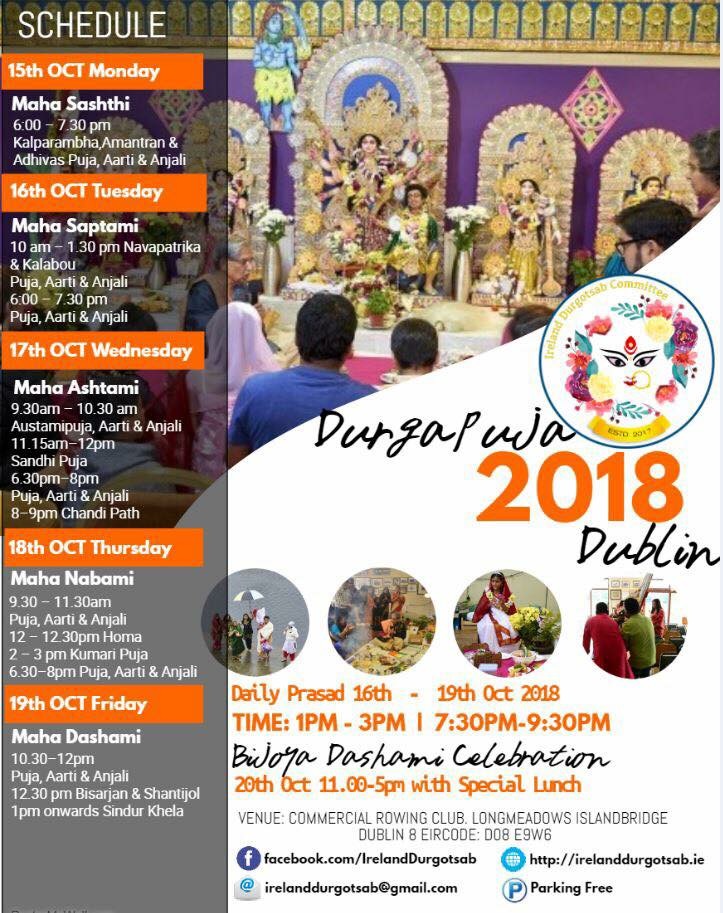 For more details visit our website irelanddurgotsab.ie or email us irelanddurgotsab@gmail.com
www.irelanddurgotsab.ie
Jai Maa Durga
IDC Durgapuja