Description
Join the DynoChem training team for two days of hands-on training, using the DynoChem software to accelerate process development, optimization and scale-up for crystallizations.
Training will address DynoChem applications for engineers and scientists involved in process development, tech transfer, troubleshooting and optimization of crystallization operations. Case studies from BMS, Merck, GSK and others will be used to illustrate these applications. No prior familiarity with DynoChem is needed.
The agenda will cover topics such as:
Predicting solute solubility from limited data to choose a good solvent / anti-solvent

Regressing solubility data versus temperature and solvent composition

Fitting crystal growth kinetics from lab experiments

Designing a crystallization for a specified yield, purity and particle size distribution

Assessing the capability of a given plant vessel to meet heat transfer and particle suspension requirements for a crystallization
What recent trainees liked best about DynoChem training courses:
"There was loads of discussion and interaction, this is a great way to learn."

"Freedom to discuss any element of process engineering."

"Excellent training course, very relevant and pitched at just the right level."

"

This was my first time using DynoChem but I can immediately see ways in which I can use it."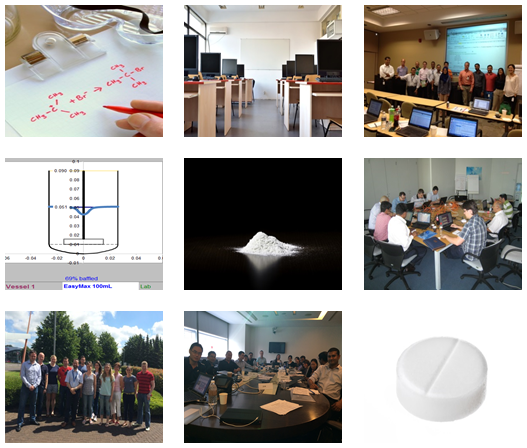 Training times will be from 9:0 to 4:30 each day, with 6 hours of tuition. You will need a laptop computer with DynoChem installed and a wireless network capability. We will provide a temporary license of DynoChem for the duration of the training and the following week.
Hotel Accommodation
The registration fee includes attendance for both days of training, all training materials, coffee breaks and lunch on both days. Hotel accommodation is not included.
Local hotels include: Weetwood Hall Conference Centre & Hotel, Village Hotel Leeds North, Haley's Hotel & Headingley Lodge
Refund / cancellation policy:
1. Substitutions can be made at any time before the training.
2. For cancellations made in writing up to two weeks before the training, a full refund will be made, less a financial charge of €100.
3. No refunds can be given for cancellations less than one week before the event.
4. Registration is open to DynoChem customers and prospective customers from industry, academia and government.