About this Event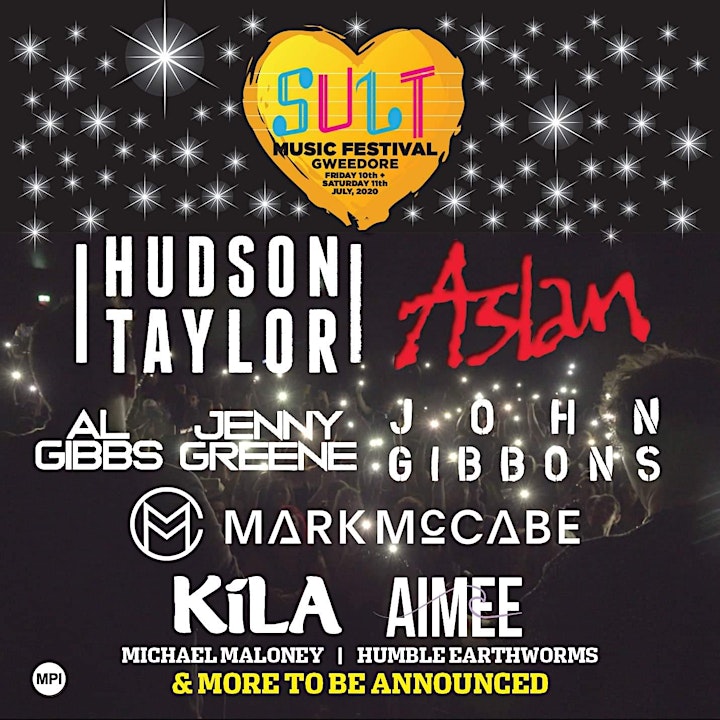 **SULT 2020 HAS BEEN POSTPONED AND WILL RETURN WITH SAME BAND LINE-UP PLUS MUCH MORE FOR SULT 2021 **
It is with a heavy heart that the decision has been made to cancel SULT 2020 in light of the current COVID-19 public health emergency.
While this is not the news we wanted to share, we are delighted to announce that the 2020 band line-up has been confirmed for SULT 2021; along with some other exciting new additions to be announced later in the year! SULT 2021 will take place on the 9th and 10th of July 2021.
Therefore, your SULT 2020 ticket will be valid for SULT 2021 and we'd ask you to hold on to your ticket and keep it safe for next year. However, if you require a refund please request one and it will be refunded within 7-10 days.
Keep an eye on our social media pages over the coming while and we will post more information on SULT 2021 when we can.
Good times will come again; better times with friends, listening to music on the seashore and dancing care-free in the warm Summer breeze. That's a party that we look forward to hosting in July 2021 so until then, stay positive and keep the faith.
Stay safe.
SULT Committee
**FÓGRA FAOI SULT 2020**
Is le croí trom a glacadh an cinneadh, SULT 2020 a chur ar ceal, de bharr an baol a bhaineann leis an Coróinvíreas (COVID-19) agus maidir le cúrsaí sláinte agus sábhailteacht poiblí.
Cé nach é seo an nuacht atá uainn a roinnt, is cinnte gur tógáil croí agus cúis mhór áthais dúinn é a fhógairt, go bhfuil sé dearbhaithe againn, go mbeidh an clár a bhí beartaithe againn do SULT 2020 a sholáthar againn le linn SULT 2021. Ní amháín sin, ach beidh roinnt DJanna spreagúla agus suimiúla a chur le clár ceoil na féile, agus fógrófar iad seo níos moille sa bhliain! Beidh féile ceoil SULT 2021 ar siúl idir an 9ú agus 10ú Iúil 2021.
Ar an ábhar sin, beidh do thicéad do SULT 2020 bailí do SULT 2021, agus iarann muid ort greim daingean, docht a choinneáil air do fhéile na bliana seo chugainn. Sin ráite, más mian leat aisíocaíocht a fháil, beidh sin ar fáil fósta ach í a iarraidh.
Bí cinnte agus súil a choinneáil ins na laetha amach romhainn, ar na hardáin meáin sóisialta atá ag SULT agus beidh tuilleadh eolais ar fáil maidir le SULT 2021.
Tá muid dóchasach go mbiseoidh cursaí agus go mbeidh laetha maithe, geala linn aríst; nuair a bhéas cairde ábalta cruinniú agus ceiliúradh, le sult agus spraoi a bhaint as ceol agus cuideachta a chéile thíos cois na trá, gan trácht ar dhamhsa spraíúil gan bhuairt, gan ghruaim go té teolaí i dteas an tsamhraidh. Is cinnte gur sin cóisir a bhfuil muidinne ag dúil go mór lena reachtáil i mí Iúil 2021, mar sin do, idir seo agus sin, fanaigí dearfach agus bígí dílis.
Fanaigí slán, agus fanaigí sábháilte.
Coiste SULT
SULT is back!
Donegal's premier open air music festival weekend returns for summer 2020 in the stunning Gweedore coastal location. Bigger and better with our best ever line up. Headline acts including Hudson Taylor, Aslan, Kila and Aimee to name a few.
The place to be with an incredible line up of the music industry's hottest artists to be announced! Early bird tickets are limited don't delay, get your tickets now