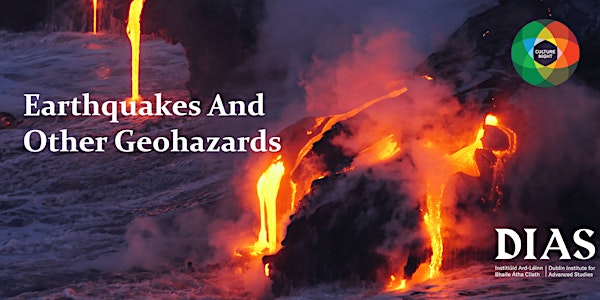 Earthquakes And Other Geohazards (Culture Night)
From fire to water, these three short talks explore geohazards in the modern world including earthquakes, volcanoes and groundwater.
About this event
Talk 1: Earthquakes
17:00 - 17:30
This talk will discuss the live monitoring of earthquakes in Ireland and worldwide.
Talk 2: Volcanoes
17:30 - 18:00
Volcanic eruption is one of the most dangerous disasters in the world, yet it is not very well predicted. An unexpected volcanic eruption can cause huge economic loss and loss of human life. In this talk, I will discuss how we attempt to forecast a volcanic eruption and what DIAS researchers do to contribute to this goal.
Talk 3: Groundwater
18:00 - 18:30
Groundwater flooding in Karst is a concerning geohazard in Ireland especially west of the country. In this talk, you become familiar with Karst as a potential geohazard and how seismic methods can help to track and locate underground water systems in Karst.