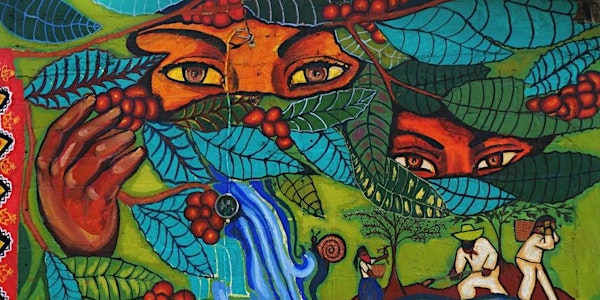 Eco-Humanities Research Group public lecture series
UCC Eco-Humanities Research Group public lecture from Laurence Davis and Matt York
By UCC / ERI Eco-Humanities Research Group
Date and time
Thu, 30 Mar 2023 08:30 - 09:45 PDT
About this event
1 hour 15 minutes

Mobile eTicket
Anarchist Ecologies: Grounded Utopias and the Deep Commons
Laurence Davis and Matt York (Department of Government and Politics, University College Cork)
The Eco-Humanities Research Group at University College Cork aims to explore how work in the humanities can help individuals and communities, including communities of researchers in the social and natural sciences, to navigate the growing demands of contemporary ecological crises. In this joint public lecture, Laurence Davis and Matt York share their respective research on two distinct but closely related conceptual tools intended to facilitate radically transformative political imagination in a time of ecological collapse.
In the first part of the lecture, Laurence Davis will elucidate the concept of 'grounded utopias'. His chief argument is that utopian imagination, long derided as either hopelessly impractical or dangerously idealistic, can contribute meaningfully to much wider processes of urgently necessary ecological and social regeneration. However, it can do so only if it first comes to grips with utopia's own complicity with modern conceptions of progress and perfectibility that have legitimized settler colonialism, the genocide of Indigenous peoples, the violent subordination of women and racial and sexual 'others', ecocide, and a 'grow or die' form of civilization that is now threatening the very existence of all life on the planet. In his remarks Davis will critically analyze (1) 'transcendent' forms of utopian thought and imagination that have historically inspired and helped to maintain interlinked systems of domination ranging from capitalism to industrialism, colonialism, patriarchy, and megatechnics; and (2) 'futures thinking' of the sort that has guided and informed a range of contemporary academic research projects. By way of a radical and transformative constructive alternative, he will draw on a range of literary (William Morris, Ursula K. Le Guin, Starhawk) and social movement (Zapatistas in Mexico, Rojava Revolution in northern Syria) case studies, as well as philosophical reflection by relatively neglected German/Austrian-Jewish revolutionary romantic thinkers (Gustav Landauer, Martin Buber), to sketch the contours of and argue for a terrestrial ecotopianism that can help humanity build beyond the Necrocene.
Inspired by such grounded utopias and building on the growing body of work that repositions love, care, and solidarity relations as central to social reproduction and fundamentally constitutive of society, Matt York will then discuss his research on the Deep Commons. This ongoing enquiry works to broaden our understanding of what constitutes revolutionary transformation towards a far more comprehensive redefinition of our social ecologies across all spheres of life. Critically, the aim is to extend the concept of 'commons' far beyond the mere management of resources with which humans have a relationship of stewardship, and to radically reimagine human-nature relations within our more-than-human conditions. Drawing on a recent collective visioning project involving a global cross-section of anti-capitalist, ecological, feminist, and anti-racist activists, Matt will explore how such a radical interrelationality might thus serve as the basis for a co-emergent relational ethics of solidarity and care.
Laurence Davis and Matt York lecture in the Department of Government and Politics at University College Cork. Laurence has published widely on political theory and ideologies, focusing on radical political thought, including anarchist and utopian studies, democratic and revolutionary theory, and the politics of art, work, ecology, love, and social change. He is a Series Editor of the Manchester University Press Contemporary Anarchist Studies Series, Western Europe editor of the international journal Interface: a journal for and about social movements, and a founding member and current co-convenor of the Anarchist Studies Network of the UK Political Studies Association. His publications include the books Anarchism and Utopianism (Manchester University Press, 2014) and The New Utopian Politics of Ursula K. Le Guin's The Dispossessed (Lexington Books, 2005). Matt York's Love and Revolution: A Politics for the Deep Commons is forthcoming from Manchester University Press in March 2023. He currently facilitates the Deep Commons collective visioning project: www.deepcommons.net.