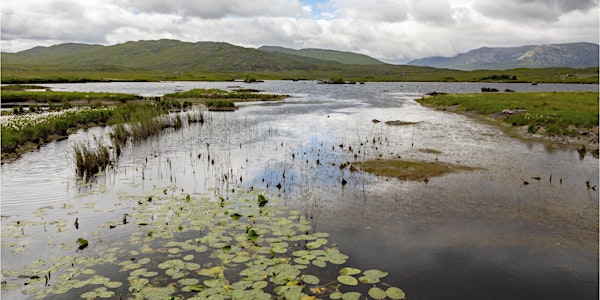 ECO SHOWBOAT at Portumna
Niall Ó Brolcháin talks about the importance rewetting peatlands.
When and where
Location
Portumna Castle Harbour Portumna Castle Harbour Portumna Ireland
About this event
THE ECO SHOWBOAT EXPEDITION 2022
ARTISTS UNDERTAKE SOLAR POWERED EXPEDITION ON THE SHANNON TO SPARK CLIMATE ACTION THROUGH THE ARTS
The Eco Showboat Mayfly expedition is a four month arts voyage from Limerick to Enniskillen on the Mayfly, the flagship of the Eco Showboat project, and the first solar electric boat to make this journey.
On Sunday 22nd May the Mayfly will dock at Portumna Castle Harbour. You are invited to join us for this wonderful afternoon of workshops, talks and of course walks in the forest.
1PM & 3.30PM
SENSING PLACE
 - Forest walk
SENSING PLACE is an attuning experience and kit created by Galway based artists Anne Marie Deacy and Joanna McGlynn as part of their Eco Showboat collaboration.
Developed in response to a biodiverse site in Portumna, Co. Galway - where forest edge meets floodplain on the shores of Lough Derg - it is an invitation to attune to our inner and outer landscape through sensory experience. Participants are led on a journey of slow looking / deep listening by each artist resulting in a combined opportunity to contemplate our relationship with the natural environment in a more than human world.
2.30PM
REWETTING OUR PEATLANDS
Niall Ó Brolcháin is a Research Associate at the Insight Centre for Data Analytics (formerly DERI) in NUI Galway and specialises in peatland restoration & GHG reduction. Over 80 per cent of Ireland's 1.5 million hectares of peatland is degraded, meaning it emits millions of tonnes of CO2 into the atmosphere each year. Studies have shown that restoration of these peatlands would result in a significant reduction of Ireland's greenhouse gas emissions.
5PM
SLOW LOOKING - Workshop with the Eco Showboat artists
Cleary and Connolly believe that learning begins with looking. Looking closely at things - for the purposes of observation and accurate documentation, or just for the simple pleasure of engaging your mind with the world - affords a deeper learning experience by fixing attention and setting up a remarkably complex and active investigation that begins with the eye and progressively engages the whole mind. The Slow Looking workshop invites you to use a range of simple viewing devices - bug boxes and magnifying glasses - to observe closely samples of biodiversity found on site, and to draw these using the materials provided, in a relaxed atmosphere conducive to conversation.
6PM
RIVER MOVIE - First Scenes
Screening
River Movie will record the first expedition of the Mayfly - a series of encounters with artists, activists and scientists as we travel upriver from Limerick to Enniskillen, discovering the beauty of the Shannon and the Erne waterways, exploring scientific and artistic ideas for how we can save this environment from everything that threatens it today - pollution, invasive and endangered species, climate change… Using a 4k drone, a 4k gimbal camera, an IR camera and other devices for macro-photography and sound recording, River Movie will document a unique collaboration of art and science addressing the great problem of our time.