Event Information
Location
An Sanctoir Ltd.
Bawnaknockane
P81FX34
Ballydehob
Ireland
This is your sign from the universe to follow your breath into freedom and flow! Come experience the healing power of circular breathing.
About this event
To breathe ecstatically is to activate on all levels of being into "a state of being beyond reason and self-control". It is a practice of surrender and flow. Through the dynamic movement of breath that is both energizing and highly focused we move into a space of release, of letting go. This ecstatic practice helps to dissolve emotional and energetic blockages and build resilience within the nervous system.
Join me for an ecstatic breathwork practice at An Sanctoir. Let's breathe ourselves into stillness, quiten the mind and expand our love for ourselves and each other through our breath.
Everybody is welcome. No breathwork experience necessary. Just an open mind. 
Breathwork is a powerful way to access your body's innate intelligence, it's something we can take for granted, but is a practice that is thousands of years old, and while there are many variations, styles and names, all types of breath work offer the chance for personal transformation through improved mental, emotional, physical, and inner well-being. Our breath, or prana, is literally what keeps us alive, and yet, so often, we go through the day chronically shallow breathing, denying ourselves our full life force which often keeping us in a state of anxiety, or fight or flight. Breathwork, or the process of deep rhythmic breathing, moves us out of fight or flight and into the parasympathetic nervous system to rest and digest. It is said that how we breathe is how we live, and so to live life to its fullest, we need to breathe to our fullest.
This session will include some light movement to start with, followed by guided ecstatic breathwork practice. 
- Please do not eat heavy beforehand - Wear comfortable clothing - Bring eye mask
Tickets:
The price of the class is €12/15, payable to the teacher before the class. However if finances are an issue please don't let that stop you from coming.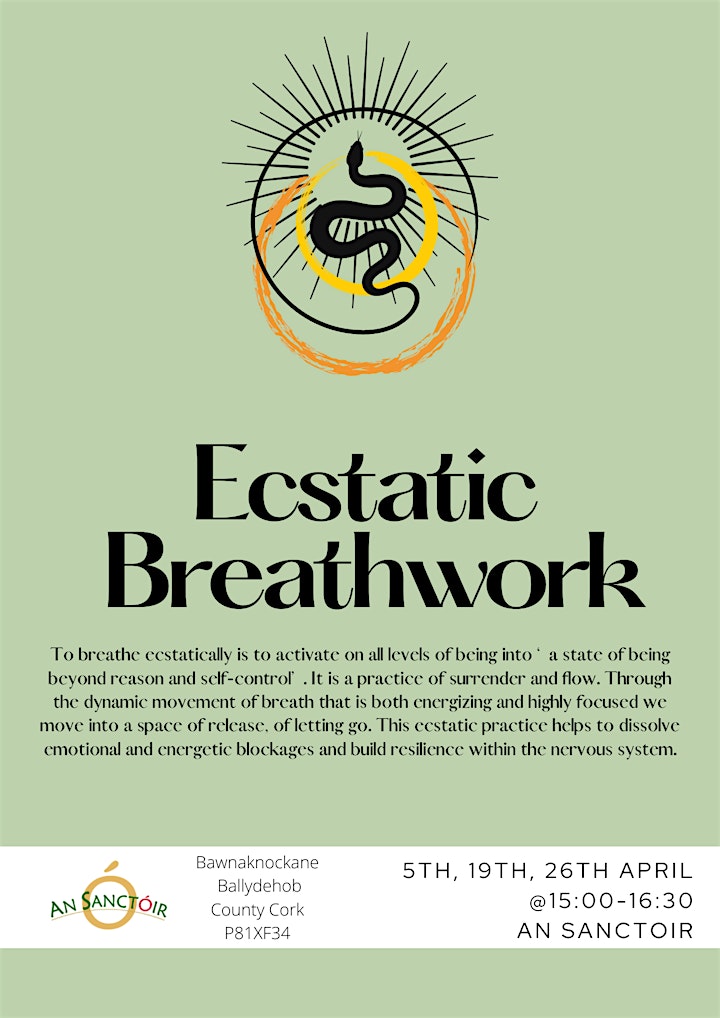 Location
An Sanctoir Ltd.
Bawnaknockane
P81FX34
Ballydehob
Ireland