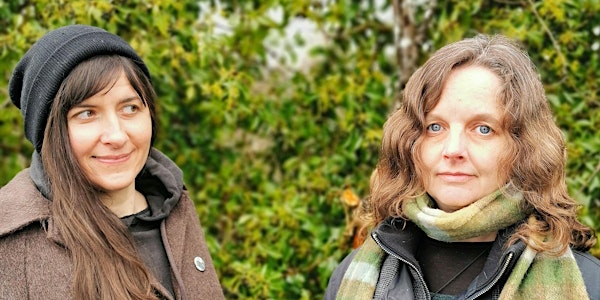 Eimear Reidy and Natalia Beylis
A sonic journey through the woods with Eimear Reidy (cello) and Natalia Beylis (keyboard/electronics).
When and where
Location
Maureen's 14 Mulgrave Road Shandon T23FT65 Cork Ireland
About this event
Eimear Reidy and Natalia Beylis began creating music together in 2020 for an arboreal music & research project titled 'Whose Woods These Are.' Based between Leitrim and Cork, the duo compose new music for keyboard instruments, cello and electronics. Together they have formed a distinctive musical language that represents a common ground between their individual practices and opens avenues for improvisation within their performances.
The title of their musical research project 'Whose Woods These Are' is taken from Robert Frost's 'Stopping by Woods.' The poem entered public domain on midnight 1 Jan 2020 and now it is owned by no one/owned by us all collectively. The aim of the project is to bring audiences into woodland settings in hopes of encouraging people to spend time amongst the trees and with the ultimate goal of allowing the public to have a hand in the conservation of our forests.
'The woods are lovely dark and deep.'
Who owns the trees? Who owns the woods? Is it the birds who build homes within the branches? Or the worms who create the nutrients among their roots? Or all creatures whose very lives rely on their oxygen? Imagine a public domain of trees where no one owned them & together we were their guardians.
Their debut album 'Whose Woods These Are' was released on Nyahh Records in 2021.
"Cellist Reidy and experimental all-rounder Beylis conjure the otherworldly wonder of the forest in these pieces: 'The Sloes Made Sweet' hovers like dusk light between leaves, ominous and intoxicating. 'They Rustle And Blink In The Hawthorn' is a kosmische moonrise: an odyssey of drones, chirruping keys and birdsong. The winding cello and organ drones of 'A Shelter Of Junipers' wrap around one another like the roots of ancient trees, like Oliver Coates compositions encased in dirt. Beylis has been vocal on the subject of environmental justice, and the protection of Ireland's woodlands". The Quietus-Eoin Murray.
"Whose Woods These Are contains three lengthy works featuring Reidy's cello and Beylis's keyboard work, austere in instrumentation but high in technique, chemistry and mood. As hinted by the Robert Frost-derived title the two have crafted a dedication to the forest and a plea for all to be granted a hand in its conservation.….each player responding to small developments made by the other and developing the song in spiralling progressions. It is another fine argument for the existence of ESP in musicians." The Thin Air - Padraic Grant