Description
Eirtakon is set for a massive party in Croke Park this November as we celebrate our 12th year as Ireland's largest and longest-running anime, manga and gaming event!
Over 4000+ anime and manga fans, cosplayers, video and trad gamers joined us in our new home at the Croke Park Conference Centre last year, absolutely smashing our previous attendance records. This year we're getting even bigger to celebrate our first big milestone of 12 years!
Ticket Pre-Purchase
Please note that pre-purchasing is available for Weekend Passes only.
Weekend Pass wristbands may be collected at the front desk starting on Friday afternoon. You must bring either a printout of the Eventbrite order confirmation, or show your barcode on the Eventbrite app on your smartphone or tablet to collect your wristband.
Payment may be made by VISA, MasterCard or AMEX. Please contact us directly if you wish to pay using an alternative payment method, such as by PayPal or by cheque.
Ticket Prices
*Please note that posted times are approximate only, and may change when the final timetable is released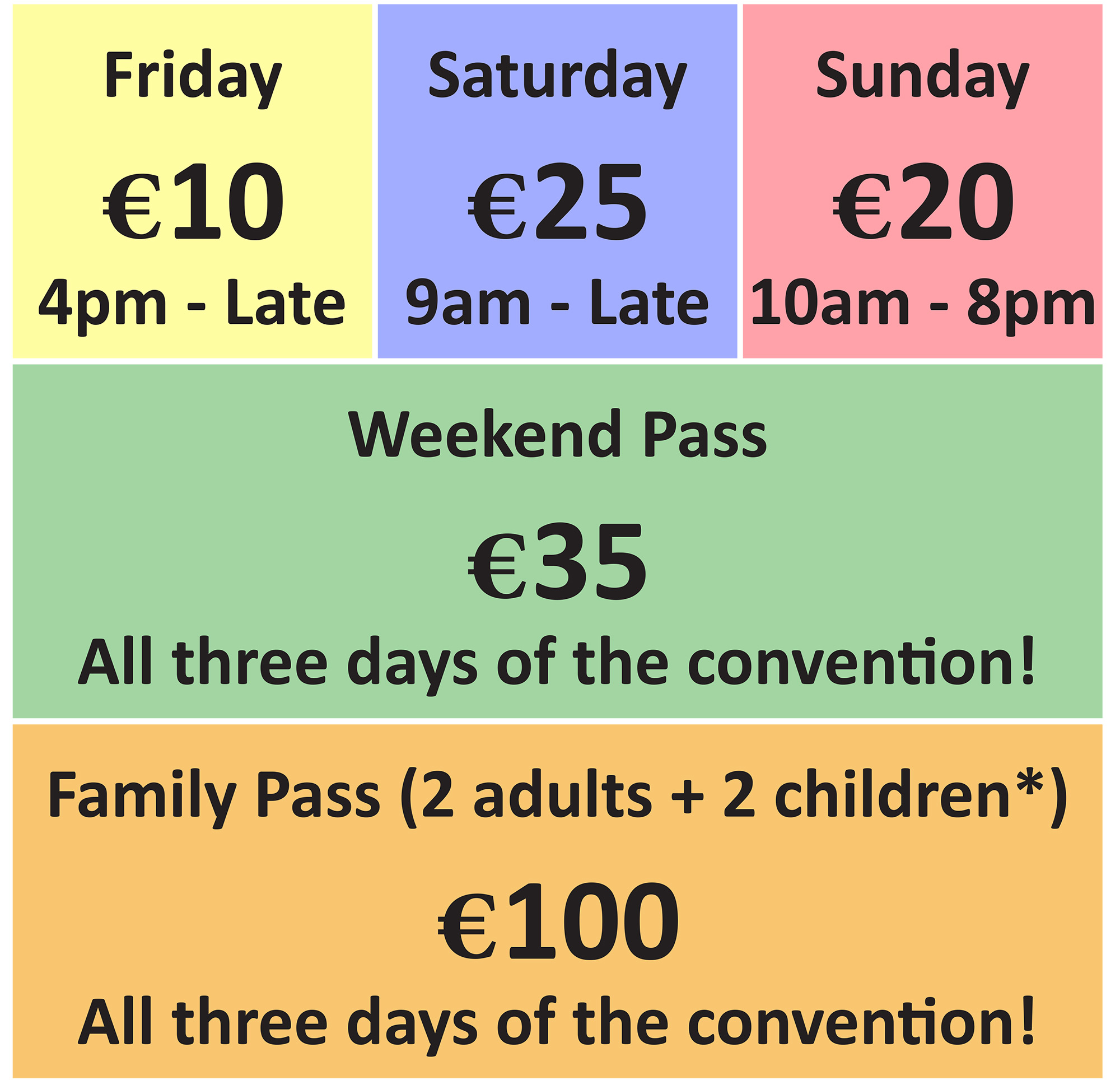 Friday Day Pass - €10
Grants admission to the convention for Friday night only.
Saturday Day Pass - €25 / Sunday Day Pass - €20
Grants admission to the convention for one day. If you purchase a Saturday Day Pass and subsequently choose to attend Sunday, you may upgrade to a Weekend Pass for €10.
Weekend Pass - €35
Grants admission to the convention for all three days - Friday, Saturday and Sunday.
Weekend Family Pass * - €100
Grants a family of 4( 2x Adults and 2x Children) admission to the convention for all three days - Friday, Saturday and Sunday. Note* Children must be between the ages of 6 and 14 at the time of the event. For this ticket to be valid.
All attendees must comply with the Eirtakon convention policies. Attending Eirtakon signifies that you have read and agreed to the convention policies. http://www.eirtakon.com/policies
Parents/Guardians/Supervisors/Carers
Parents/guardians for children younger than 6 years of age, as well as supervisors and carers who are attending solely for supervision purposes are eligible for free entry to the convention.
You do not need to purchase a ticket in advance, you will be provided with your wristband upon entry to the convention.
Group/Society Group Purchases
If you are looking to make a large group purchase on behalf of a social group or college society, please contact us directly to discuss exact numbers, and alternative payment arrangements.
We offer a 10% discount when paid by cheque or bank transfer for group orders of 30 or more; and a 15% discount for group orders of 50 or more.