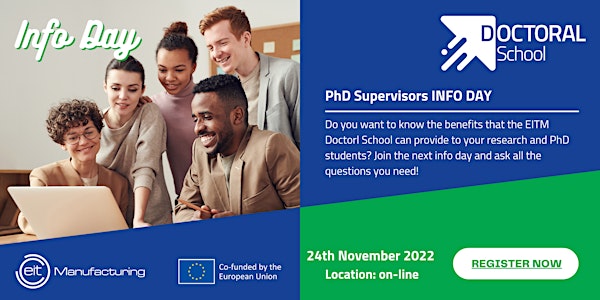 EITM Doctoral School INFO DAY for PhD supervisors - 24th November 2022
Join the EITM Doctoral School INFO DAY to learn about the benefits your research and PhD students can get from it
By EIT Manufacturing Master School
Date and time
Thu, 24 Nov 2022 01:00 - 02:00 PST
About this event
The EIT Manufacturing Doctoral School is an initiative for PhD manufacturing students, but not only. Come and learn how it can support research and PhD students to shape a sustainable manufacturing and an ethic society.
Watch here below an example of our past activities!
EIT Manufacturing (EITM) is part of the European Institute of Innovation & Technology (EIT) and is a European associations of leading Universities, industries and research centers linked to the manufacturing sector, with the aim of boosting the European manufacturing to become globally competitive and sustainable for the society. Bringing together manufacturing actors across Europe, EITM integrates education and innovation for an entrepreneurial and sustainable Europe.
The EIT Manufacturing offers several educational activities and programmes, including a Master School, providing Master of Science programmes, and a Doctoral School for PhD researchers.
The info session will be recorded and made available to the public. Joining the info day you agree with the EIT Manufacturing privacy policy and data management, to share your contacts with the Doctoral School university partners, to the recording and sharing of the video: https://eitmanufacturing.eu/privacy-policy/