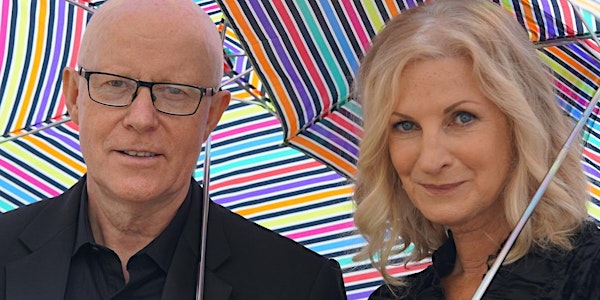 Eleanor Shanley with John Feeley
Eleanor Shanley & John Feeley are on tour with a stunning new album bringing Folk Music & Classical guitar to a whole new level.
When and where
Location
Royal Spa Hotel & Cafe Main Street Lisdoonvarna Ireland
Refund Policy
Contact the organiser to request a refund.
About this event
ELEANOR SHANLEY
"Exquisite" & "Folk Roots of the highest order" - Colm O'Hare, Hot Press
"Exquisitely beautiful" – Irish Music Magazine
"Gorgeous And Bright" – No 1 played song on RTE Radio 1, summer 2015
With a career spanning over twenty years, Eleanor Shanley is one of the​ most loved singers in our country's folk music history.
Whether as a soloist, or collaborating with De Danann, or her time collaborating with the late Ronnie Drew (rip), that voice rings true with such lyrical emotion, e​very time.
Eleanor Shanley ​still possesses a voice as pure and lyrical as the first day she stepped in front of a microphone with De Danann in 1990. Renowned for her unique interpretation of Irish and Roots songs, Eleanor has been at the top of her profession since her first appearance with De Danann. She recorded two critically acclaimed albums with them 'A Jacket of Batteries' and 'Half Set in Harlem'. While a member of De Danann she also toured Europe, Australia, China, Japan and the USA as well as taking part in several tours of Ireland.
Eleanor has worked with many great musicians including Christy Moore through the years and also recorded with The Dubliners, Sharon Shannon, Donal Lunny, to U2 and too many more both at home & internationally to mention here. Her time working with Ronnie Drew was a very special time in her life, and this a friendship she treasured. They recorded two albums together, A Couple More Years, and El Amor De Mi Vida, which was recorded shortly before Ronnie died, Eleanor and Ronnie performed live together on many occasions, also.
Eleanor's happiest place is performing and to frequently have an opportunity to perform with friends too makes the experience even more special.
Having toured Ireland, the continent and in Canada and the USA frequently over recent years one would wonder where Eleanor found the time to release a new album also. This she did, with 2015's Forever Young (her 14th). The album presented Eleanor with the most played track on RTE Radio 1 the same summer, the Thom Moore classic, Gorgeous and Bright
Highlights in recent years include performing at RTE Radio's 1916 Commemoration Concert in Dublin, together with performing at Here's To You, Ronnie Drew – A Celebration. In honour of her dear, dear friend, the concert was held at Vicar Street in September of the same year.
This year so far, has included live shows in Denmark, where Eleanor was awarded The Danish Folk Music Award in 2015, a testament were it needed to her popularity in this market. She is only the second Irish artist to receive this honour since its inception 20 years ago.
Eleanor has just released "Cancion de Amor", an album with the classical guitar player John Feeley, in December 2020.
www.eleanorshanley.ie | @eleanorshanley
a bolder more imaginative interpreter...'
New York Times
'Above all the achievement is Feeley's, his commanding technique placed at the service of talented young composers.'
BBC: The complete guide to Classical music, April 1999
'Immaculate recording compliments Feeley's remarkable virtuosity...an abundance of refined writing and exquisite playing.'
The Wire, London, January 1999
'… all played with careful attention to nuances of tone and texture...a devoted audience rose to its collective feet at both intermission and concert's end.'
Washington Post, Feb. 21, 2005
'…his formidable technique and sheer musicality can take your breath away…'
Avant ? Issue 10, winter 1999, England
'... Feeley's playing is as impeccable as always'
Sunday Tribune, Ireland, Nov. 1999
JOHN FEELEY
Described by the Washington Post as 'Ireland's leading classical guitarist' and by Michael Dervan in the Irish Times as 'a trailblazer...when it comes to the guitar and guitar-playing in Ireland', Feeley studied at Trinity College, Dublin, Queens College of the City University, New York, and The National University of Ireland, Maynooth, where he graduated with a PhD in music. He has taught at the American Institute of Guitar, Memphis State University, the Conservatory of Music, the Royal Irish Academy of Music and the Conservatory of Music, Dublin Institute of Technology (now TUDublin).
Highly regarded for his performance and recordings of new works by Irish composers, he has had many works written for him. He is a regular performer at many international guitar festivals and has made recordings with K-Tel, Gael-Linn Records, CBA Classics, Ossiain Records, Castle Communications, Blackbox Music, England and Celestial Harmonies. Germany. He has also recorded with the Chieftains, famous Spanish Soprano Montserrat Caballes and flautist William Dowdall.
Concerts have taken him around the world and include appearances at the Sydney Opera House, the Old Opera House, Frankfurt, the L'Arena in Verona, and New York's Carnegie Hall.