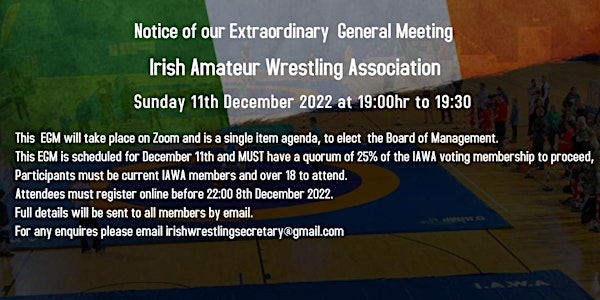 Elections EGM Irish Amateur Wrestling Association 2022
The elections of the Board of the IAWA will take place at the Extraordinary General Meeting on Sunday 11th Dec 2022 at 7pm
About this event
Notice is hereby given that the Extraordinary General Meeting of the Company will be held online by zoom on Sunday 11th December 2022 at 19:00 hrs, for the following purposes:
There is a single item agenda.
1. Elections of members onto the Board of Management
Elections are required at this time for the position of President, Treasurer, Secretary, 5 members of the Board.
Nominations for any of these positions are to be received by the IAWA secretary by email by 2nd December and should include name, contact details, synopsis of background and what they bring to the role. Please email secretaryIAWA@gmail.com
Information will be circulated in advance of the meeting and will include nominated persons' details.
The EGM is open to current IAWA members only. It is imperative that we have as many members at this EGM to make it viable. If we do not meet the quorum of 25% of the Voting membership, we cannot proceed with the meeting and an alternative date will have to be set.
Participants must register before 22:00hr 8th December 2022 to receive the zoom link specific to getting access the meeting.
Zoom details will be emailed to all registered members 24 hours before the EGM starts.
Before registering for the EGM and to qualify to vote, participants must be over 18 years old and be current registered members of the Irish Amateur Wrestling Association for 2022/23.
Each Club is allowed a maximum of 3 representatives to attend the EGM. Memberships can be renewed at www.irishwrestling.ie
Should there be any questions that you might wish to raise at the EGM, you are welcome to submit these in advance to facilitate the IAWA in providing the fullest response possible.
Questions can be sent to irishwrestlingsecretary@gmail.com
We look forward to having you attend the EGM
Thank you
The .I.A.W.A. Board