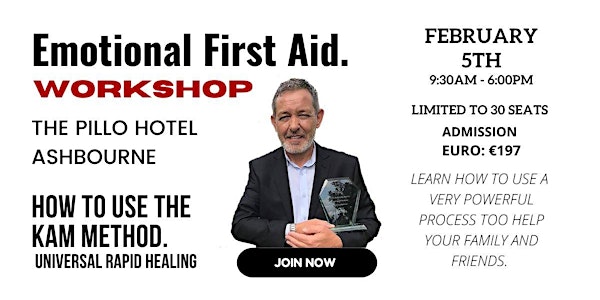 EMOTIONAL FIRST AID - LEARN THE KARL ANTHONY METHOD
THE KARL ANTHONY METHOD HAS BEEN DEVELOPED BY KARL ANTHONY AS A POWERFUL TOOL TO REMOVE NEGATIVE EMOTIONS AND BEHAVIOURS
When and where
Location
Pillo Hotel Ashbourne The Pillo Hotel A84 KR91 RathAshbourne Ireland
Refund Policy
Contact the organiser to request a refund.
About this event
THE KARL ANTHONY METHOD WAS DEVELOPED AND TESTED AS FAR BACK AS 2016. THE METHOD WAS TESTED WITH THE GENERAL PUBLIC BY A NETWORK OF IRISH HYPNOSIS CLINICS NATIONWIDE WITH STUNNING RESULTS. I HAVE ALWAYS WANTED TO SHARE THIS METHOD, FIRSTLY AS A TOOL FOR PARENTS TO HELP THEIR CHILDREN. THE METHOD ONCE DONE CORRECTLY WITH A PERSON WHO IS COMMITED TO WORKING WITH IT IS THE MOST POWERFUL, FASTEST AND EASIEST METHOD I HAVE EVER SEEN AND WITNESSED . HELP YOUR LOVED ONES WITH THIS NEW CUTTING EDGE THERAPY THAT ANYONE CAN LEARN. OUR AIM IS TO TEACH YOU THIS METHOD AND TO EXPERIENCE IT FOR YOURSELF ON THE SUNDAY AFTER NOON. AS AN ATTENDEE YOU WILL BE WORKING WITH YOUR FELLOW ATTENDEES AS THEY WILL ALSO BE WORKING WITH YOU. WE WILL DEMONSTARTE THE METHOD WITH ONE LUCKY ATTENDEE FOR REFERENCE. ITS TIME TO BRING BACK THE ART OF HEALING IN OUR HOME AS THE MONDERN WORLD SEEMS ONLY INTRESTED ON MEDICATIONS WHICH DEAL WITH THE SYMPTOMS BUT NEVER THE CAUSES.
I couldn't recommend the Karl Anthony Method enough the difference it has made to my life after only a few sessions with Karl. I went to Karl because I struggled with anxiety and health anxiety I was always in fight or flight mode, waiting for something to happen. My health anxiety had me monitoring my body for any changes I could feel. I was due to have an operation the end of August that's when I knew I needed Karl's help after a previous operation were I had a cardiac arrest so I was petrified. Karl was so comforting telling me everything would be ok. The week of the operation I was so shocked at how calm I was feeling about it. The morning of the operation I was still feeling so calm. The doctors came in to check me before surgery but they couldn't find anything I was even sent for a CT scan all was clear. I really can not thank Karl enough for all he has done for me. Since attending Karl I haven't felt any anxiety or panic at all and I am really enjoying having my freedom back.