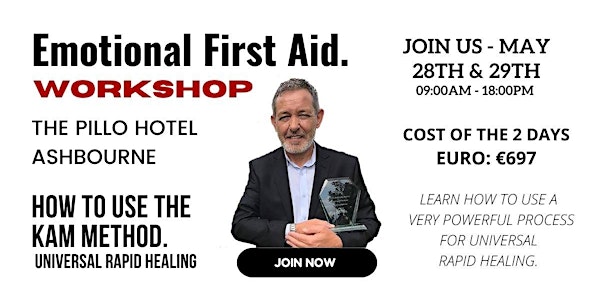 Emotional First Aid Workshop
Learn how to become the Emotional First Aid in your home. Be the one that uses a Universal Rapid Healing Tool with very powerful effect.
When and where
Location
Pillo Hotel Ashbourne The Pillo Hotel A84 KR91 RathAshbourne Ireland
About this event
Become the Emotional First Aid that your family and friends can turn too. In an age where seeking medical help of any nature is filled with waiting lists and cancellations. Take the power into your own hands. Karl Anthony developed a very powerful method in 2017 that has changed the way we can help those closest to us. Karl found a very clever way to use the Physiology of the body to disconnect, interupt and remove negative feelings and emotions that can make our living experience very chanllenging. From Social Anxiety to Depression, from Addiction to Fears and Phobia.s. There is a vast amount of issues that can be ressolved in minutes using this technique. The objective of the work shop is to educate the attendee's to how and why they suffer wth crippling symptoms, we can show you how this happens to the human mind and the circumstances it can happen. you will learn very quickly that you are a representation of all the negative experiences you had as a child. This is also a very fast way to reset the mind. We can also add to the mind new feelings, feelings of self worth, feelings of being enough, feelings of happiness snd feelings that can give you the best out of your mind.
This workshop is delivered by Karl Anthony who has helped thousands of clients in his clinics. Karl Anthony has trained over a thousand students in working woth clients for emotional issues. Now Karl Anthony wants to teach you in the home how to be the one who can make a huge difference to thoe closest to them. Its time we relearned the old arts of healing each other. Again there is no sign of the Health service being fit for purpose for many years if not even decades. Noboby deserves to suffer
As an attendee you will also be in with of s chance of working with `Karl Anthony on the day to experience the powerful healing of this method. Karl anthony will pick 2 attendee's for demonstration of the method for the whole room to see.
NOTE*** This event is not suitable to the following people.
if you are pregnant then this event is not suitable as we are dealing with negativity and your may experince negaive emotions and feelings in the process of letting go.
if you are on strong medication and find it hard to connect to your emotions then it would be difficult for you to again let go.
If you are not willing to undergo the process from your fellow attendee's once the method is shown. Or you will resit any help offered