Description
This event, which is kindly sponsored by Collins McNicholas Recruitment and HR Services Group, will take place in the Sligo Park Hotel at 8am on Wednesday 26th of Feb 2019.
This event will focus on a review of Case Law and other developments in Employment Law over the last year. There will be a particular emphasis on upcoming changes in Employment Law and what practitioners should be aware of over the coming year.
There will be a networking opportunity with breakfast provided, followed by the speaker commencing at 8:30am sharp. This event is due to finish at approximately 9.30am followed by Q&A.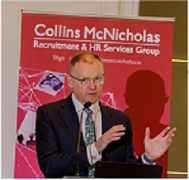 The speaker for the event is Alastair Purdy, Partner, Alastair Purdy & Co Solicitors, a dedicated Business Law Firm with offices in Dublin and Galway providing friendly, professional services. Alastair Purdy is widely published in the area of employment law. He published his first book on employment law in 2006 and a second edition of this book titled "Termination of Employment – A Practical Guide for Employers" was completed in 2012. He completed his third book titled "Equality Law in the Workplace" in 2015. He is widely recognised as one Ireland's leading Practitioners in the area of employment law and HR.
Sponsor

Collins McNicholas is an Irish based Recruitment and HR Services company that provides innovative talent solutions to organisations in Ireland and across Europe, as well as assistance for multinational companies looking to establish facilities in Ireland.
Founded in 1990, Collins McNicholas has a nationwide presence with offices in Dublin, Cork, Galway, Limerick, Sligo and Athlone. Our success is based on strong company values and a commitment to the consistent delivery of exceptional recruitment and HR services to clients and candidates.
We work across all levels of experience from entry level to senior management, dealing in permanent, contract and temporary assignments. Our specialist sectors include Technical & Engineering, Science & Pharmaceutical, Medical Devices, Supply Chain & Logistics, Accounting & Finance, Administration, Customer Service & Languages, HR & Training, Information Technology, Manufacturing & Operations, Sales & Marketing, Senior Management & Executive.
- Deloitte Ireland Best Managed Companies Award 2014, 2015, 2016, 2017, 2018 and 2019.
- Great Place to Work Award 2015, 2016, 2017, 2018 and 2019.
Carparking availability: Yes
Please Note
Professional photography and video production may be taking place at the event and these images may be used on future promotional materials for CIPD. Please note that by attending the event, you are giving your consent for your image to be used on any CIPD promotional materials.
For your security and peace of mind, CIPD and its subsidiaries will not supply your details to any organisation for marketing purposes. By submitting this request you confirm that you agree to the use of your information as set out in CIPD's privacy policy. We reserve the right to include your name in a list of delegates at the event.
Non-members may click here to sign up to receive our e-newsletters which will keep you up-to-date with HR news in Ireland as well as CIPD Ireland events and survey research.