Encounters and Collaborations: Ireland and the World.Visual Culture and the Nation State 1922-39
About this event
The symposium examines the role of visual culture in the aftermath of political independence of the Irish Free State in 1922 up to outbreak of World War II in 1939. It seeks to make comparisons and connections between the visual culture of the new Irish state and those of other European and international nations and regions in the interwar period. It asks what role visual culture played in constructing new identities and in communicating national values and shared ideals to a diverse population and to the wider world.
Co-convenors Dr Róisín Kennedy, UCD and Dr. Elaine Sisson, IADT, supported by Decades of Centenaries
Schedule (provisional):
9.30 Introduction
Panel A: 9.45-11.00 Design and Public Spectacle
Orla Fitzpatrick (NMI): Montaging a nation: the Reimann School and Studios' photomontage displays for the Irish pavilion at the New York World's Fair, 1939-1949
Lisa Godson (NCAD): Participating in Mass Spectacle: The 1932 Eucharistic Congress
Sherra Murphy (IADT): Competing Irishness: The Dublin Horse Show and the Tailteann Games, 1924
Billy Shortall (TCD): Exposition d'Art Irlandais, Paris 1922
Panel B: 11.20-12.15 Early Career Researchers
Grace O'Sullivan (TCD): Mainie Jellett at the 1938 Glasgow Empire Exhibition
Paul Donnelly (TCD): Showcasing Irish Stained Glass: Harry Clarke's Studios at the 1939 New York's World's Fair
Hannah Baker (TCD): Sarah Cecilia Harrison: A Traditionalist in Modern Ireland.
Panel C: 13.00-14.00 Modernism at Home
Ann Wilson (MTU): Foreign-looking Madonnas: Seamus Murphy's Irish Christian School of Sculpture
Angela Griffith (TCD): Elizabeth Rivers, a Stranger in Aran
Tom Spalding: Cork City's Early Modernist Industrial Buildings: McKechnies, Fords and Sunbeam
Panel D: 14-20-15.15 Encounters with Modernism
Siobhán O'Gorman (IADT): Scenographic Interactions and the Irish Free State: The Dublin Gate's Premiere of Denis Johnston's The Old Lady Says 'No!' (1929)
Kerry Meakin (TUD): Window Display – Irish influences and influencers 1922-1939
Linda King (IADT): 'Eire Joins the Nations in the Air': Aer Lingus Advertising in the Popular Press, 1936-39
***Zoom link will be emailed to Attendees the day before the event***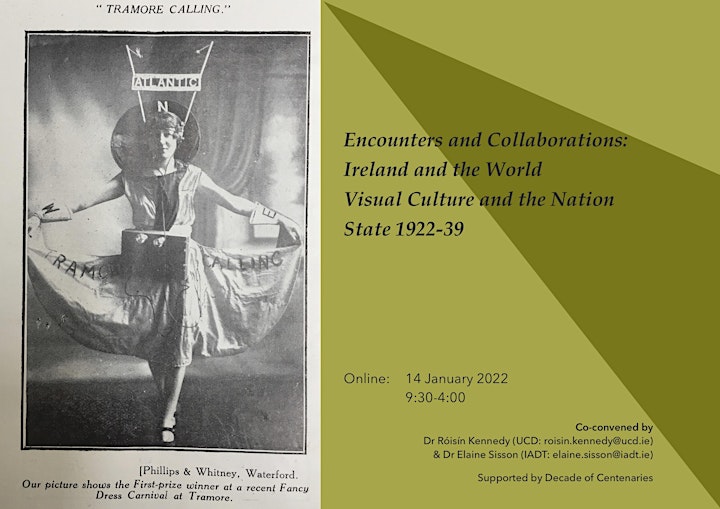 Organiser of Encounters and Collaborations
UCD Humanities showcases the university's expertise and scholarship in the humanities and stimulates new interdisciplinary areas of research of international distinction.
The institute promotes the international visibility and distinctiveness of interdisciplinary research in the humanities at UCD by acting as a laboratory for the study of culture and the human experience. It complements research undertaken within related UCD Schools and research institutes while concurrently providing a neutral space for the delivery of interdisciplinary or transdisciplinary research of key societal challenges. The institute acts as a driving force for knowledge creation and transfer within UCD and in the context of the humanities in Ireland and Europe.