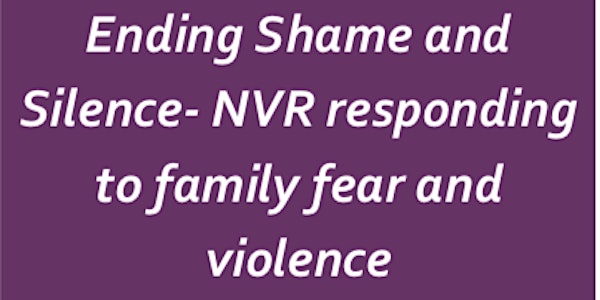 Ending Shame and Silence- NVR responding to family fear and violence
A free Webinar followed by NVR Ireland AGM.
Date and time
Wed, 25 Nov 2020 01:30 - 05:00 PST
About this event
All practitioners, research/academics and policy makers are welcome to attend the first NVR Ireland free Webinar titled: Ending Shame and Silence- NVR responding to family fear and violence. The Webinar will be followed by the AGM of NVR Ireland Network Members.
The Goals of the Webinar are to Raise Awareness and to Support Practitioners in ending the silence and shame of child to parent violence and abuse through using skills and strategies of NVR.
Webinar Agenda
9:30-10:00 Meet and Greet-Attendees will be in Break Out rooms with one NVR Ireland Steering Group member and other attendees to allow for online networking.
Each webinar topic will be followed by Q&A session via Chat function in Zoom with the Moderator collating and proposing questions to the speaker(s).
10:00-10:05 Welcome by Rosemary Fox, Steering Group Member and Senior Probation Officer, Irish Probation Service and Moderator for First Half of Webinar.
10:05-10:20 Stop Start Stop with Non Violent Resistance by Dr. Declan Coogan, NVR Ireland Steering Group Chairperson and Lecturer, MA in Social Work Programme, School of Political Science and Sociology, NUI Galway.
10:20-10:35 Parentline- Helpline for Parents and their NVR Service by Aileen Hicke, CEO of Parentline.
10:35-10:50 NVR Ireland Local Practitioner Networks by Grace Bermingham, Family Support Coordinator, Tusla-Child and Family Agency.
10:50-11:00 Break (Dr. Declan Coogan will be Moderator for Second Half of Webinar.)
11:00-11:15 A Parent's Experience with NVR
11:15-11:30 Getting the NVR Intervention Up and Running by Niamh Murphy, Youth Justice Team Leader and Lorraine Shortt, Youth Counsellor MIACP both with Kildare Youth Services.
11:30-11:45 Mindfulness and NVR by John Peelo, Project Leader NYP1 and Niall Nolan, Senior Social Work Practitioner both with Tusla-Child and Family Agency.
11:45-11:50 Webinar Wrap Up by Dr. Declan Coogan.
11:50-12:00 Break
12:00-1:00 NVR Ireland Network AGM for NVR Ireland Network Members that have joined by 20th of November 2020.