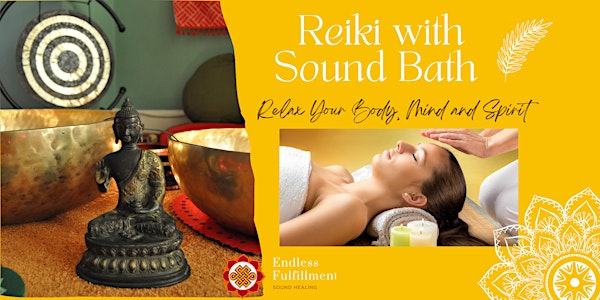 Energy booster session: Personal Reiki treatment with Sound Bath
Unique experience by combining Reiki energy with the benefits of Sound healing. This will give you instant energy booster.
When and where
Location
Endless Fulfillment Coach and Reiki 14 Wellmount Green D11 C5R7 Dublin Ireland
About this event
Step away from the hustle and bustle of your daily lives, to sink into an empowering and transformative healing. This special session will combine the two powerful healing of Reiki and sound. Give yourself the time to recharge in deep peace and relaxation.
What is Reiki?
Reiki is an ancient energy healing from Japan which channels the life force energy to heal every aspect of you mind, body and spirit. The word Reiki is made of two Japanese words – Rei which means "God's Wisdom or the Higher Power" and Ki which is "life force energy". So Reiki is actually "spiritually guided life force energy." Reiki works balancing the chakra system. The word 'chakra' means wheel in Sanskrit. They are energetic centers and we have 7 main chakras located from the base of our spine to the top of our head keeping both, our physical and spiritual bodies connected.It addresses the whole person, rather than targeting the individual symptoms and can create profound, often subtle shifts from deep within your own being. What many people enjoy about reiki treatment is that it allows them time for themselves where they aren't 'doing' but they are just 'being'.
What is sound Healing?
These wonderful buzzing sounds create a deep relaxation in which the mind calms down, the soul reconciles, and healing processes begin in the physical cells, creating a healthy equilibrium position for this holy triad. In short, this creates harmony in oneself.
You just allow the vibration of the sounds dissolve all your worries and stress , while also enjoying the additional reiki energy.
You will have two Practitoners full attention for the duration of one hour and 30 min. You will have a full hour reiki and sound bath session and 20-30min discussion before and after the session.
This is a very powerful session and will leaving you feeling rejuvenated and restored.
Benefits:
• Brings deep relaxation on a physical, emotional & spiritual level
• Reduce pain and stress
• Balance energy systems• Improve concentration
• Helps spiritual growth
• Improves sleep• Assist the body in cleaning itself from toxins and boost the immune system
• Reduce pain and stress
• Brings insight, clarity & focus
Single session: 75€Bundle of 3 sessions: 60€ per treatment. Totally: 190€ (save €35)